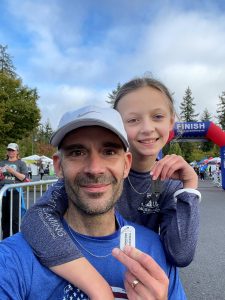 You may have heard of the Canyon Road Regional Connection project, but you may not know much about the engineers, planners, environmental experts, and others responsible for delivering on the vision of a more direct route from the Port of Tacoma to the Frederickson Industrial Area to fruition.
Some of these team members have worked for almost a decade on this project! We thought it was high time you get to know the team members you're likely to meet at an upcoming community meeting or a virtual town hall.
Today, we're featuring Brian Johnston, the Environmental Resources Supervisor on this project.
What is your role on the Canyon Road Regional Connection Project?
My role is to ensure we are complying with all Tribal, Federal, State, and Local environmental regulations that are triggered by the project. To achieve that, I work with the design team, our Environmental Lead, and approximately nine different regulatory/resource agencies to attain permits for the project; then, ensure we are meeting all the conditions tied to the permits.
How long have you worked on the project?
I have been working on this project ever since I started at the County nearly 14 years ago. At that time, we were in the early planning phases of the project, and I was tasked with finding ways to avoid wetlands. My first success involved working with the design team to relocate the future intersection of Canyon Road and Pioneer Way out of a coho rearing wetland to the currently proposed location.
How did your career lead you to this role?
My career has been centered around providing the community need for transportation infrastructure in a way that meets the community value of a healthy environment. This project allows me to do both. We're bringing a much-needed infrastructure project to the citizens of Pierce County, while also restoring natural ecosystem process to areas like Canyon Creek by providing water quality treatment, restoring wetlands, and correcting barriers to fish passage. I'm fortunate to have a career that supports the community I grew up in and have a family of my own.
What has been your favorite aspect of this project so far and why?
The complexity. The project is located in a culturally sensitive area, involves the replacement of a historic bridge, is on top of an old lahar, crosses wetlands and three salmon bearing streams.   Nearly every environmental regulation I can think of is triggered by this project. This project will likely end up being the most complex project of my career.
What have you learned through working on this project?
I learned that a diverse team that communicates well can solve very complicated challenges. Our design team consists of structural, civil and traffic engineers; right-of-way agents; biologists; public outreach specialists; and planners. Each of us has our own unique perspective and when we have the opportunity to provide input towards solving a challenge, we come up strong solutions.
What, in your opinion, is the best kept secret of Pierce County?
Tacoma Narrows Park. It is a little park that I don't think many know about. The Park has great beach access and overlooks the Tacoma Narrows Bridge. The beach gets afternoon shade and is a great place to hang out and read a book when it is hot out. At low tide you can go for long walks along the beach and checkout what it looks like under the Narrows Bridge.
What is your favorite place in Pierce County?
The segment of the Foothills Trail between the Town of South Prairie and Buckley. I was lucky to have the opportunity to work with the team that designed and built this section of trail that winds through a beautiful forest bisected by South Prairie Creek. In the fall you can watch hundreds of salmon making their way up South Prairie Creek from a gorgeous wooden arch bridge.
What is your ideal weekend itinerary?
My ideal weekend would involve a trip up to Mt Rainier with my family. We'd find a place to camp, then spend a couple days touring around the mountain hitting our favorite day hikes. Our trip would conclude with a stop at the Copper Creek Restaurant for huckleberry pie!
What do you like to do when you are not at work?
When not working I can be found running along the Cushman trail or in my garden. After working on a computer all day, I like to get outside for a run to clear my head and get some physical activity.