Pierce County is Making Serious Investments in Small Towns
Pierce County is Making Serious Investments in Small Towns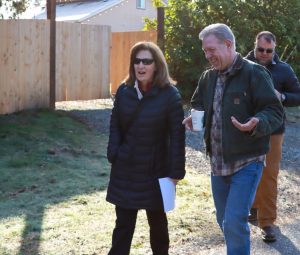 The American Rescue Plan Act of 2021 was passed by the 2021-2022 Congress to help America recover from the COVID-19 Pandemic. A key piece of this federal legislation was direct fiscal relief to local governments. Pierce County received $175 million in ARPA.
"The American Rescue Plan Act came about in direct response to the COVID-19 pandemic," said Rep. Kim Schrier, M.D. (WA- 8th District). "We needed to get kids back into the classroom safely, and we needed to get the COVID-19 vaccine to underserved communities, but more than that, we needed to find ways to come out of the pandemic better than when we went into it. The way Pierce County has leveraged their ARPA dollars is a great example of doing just that."
Three East Pierce County towns with a combined population of just over 1,600 people are making major investments in improved sewer infrastructure improvements that protect water quality and increase the availability of sewer services to residents with ARPA-funded Pierce County grants. The towns of South Prairie, Carbonado, and Wilkeson received more than $2 million in funding through Pierce County's American Rescue Plan Act Sewer and Water Utility Infrastructure Program.
Rep. Kim Schrier, M.D. (WA- 8th District), and Pierce County Councilmember Dave Morell (District 1) visited the towns of South Prairie, Carbonado, and Wilkeson to see those projects firsthand on Thursday, March 16.
"We are pleased to have received a grant to help with our imminent outfall situation, said South Prairie Mayor Carolyn Norris during the visit. "These funds are going to be instrumental in ensuring our sewer plant continues to function while we look for ways to improve the situation and help the town out in a really critical time."
The Program
The grant program was designed to work on a 50 percent match, where the agency applying had to match 50 percent of the cost of the project. This is a standard model for government grants at the federal and state levels, and for mid to large-sized cities or organizations, it works well.
The City of Lakewood – Pierce County's second largest city – received more than $1.4 million in funding under this model. Lakewood was able to extend sewer and water extensions to a 16-unit affordable housing development and extend sewer service to more than 60 residential and commercial properties.
For small towns like South Prairie, Carbonado, and Wilkeson, however, the resources to access that funding aren't available, and, according to Morell, even if it was, the expertise to apply for those grants isn't available.
"When we were creating this program, I pushed for a 10 percent match, with the County providing 90 percent of the necessary funding, for our small towns," said Morell. "Even when you have a town with less than 500 people, a way to manage water and sewer safely is still needed. They don't always have the resources available to access the funding."
South Prairie is using its grant to make necessary upgrades to the treatment and outfall of the town's sewer system to reduce the imminent risk of failure. If the system failed, it would allow sewage discharge into the South Prairie Creek watershed.
Carbonado is using its grant to design a new sewer pump station and force mains for a failing lagoon-based wastewater treatment plant, which is located near the edge of the Carbon River Canyon. Without updates, the system could cause damage to water quality and lead to other public health concerns.
Wilkeson is using its grant to replace a failing wastewater pipe and manholes causing overloading and environmental impact on local groundwater and the Wilkeson Creek. Without these updates, damage to water quality is imminent.
The Towns
Many of the small towns in Pierce County were booming coal towns in the late 19th and early 20th centuries, powering much of the growth in what is now the greater Tacoma area. As new forms of energy became available, however, the coal industry began a slow decline until many of the mining towns along the Carbon River valley died out.
Except for Carbonado and Wilkeson, these former coal towns are ghost towns now. In fact, East Pierce County is home to five of the County's six ghost towns.
Unlike when these towns saw their decline and ultimate classification as ghost towns, it's uncommon to see a modern community find the same fate. Today when a small town unincorporates, it goes back to the County.
None of the towns in East Pierce County are at risk of unincorporating now, but a common cause of unincorporating is failure to provide necessary infrastructure like water and sewer.
"Pierce County has seen this happen," said Morell. When a town or city fails, the County inherits it, including its failing infrastructure. It can cost taxpayers millions of dollars to bring these facilities up to code. Our small towns really struggle to keep up with the standards and regulations for their sewer and water systems."
The Future of the Small Towns
Small towns may face many challenges, but the people who live there have a lot of heart.
"They may lack the resources or expertise to address large-scale infrastructure problems in the way you might see a city do it, but all the towns we visited with Rep. Schrier, they've been keeping things moving without those resources," said Morell. "They do this with an effort to protect the environment and support their town."
In addition, towns struggle to attract the business and commerce places with a larger population density. This includes things like grocery stores. Many smaller towns across the United States struggle with what has become known as the food desert.
The term food desert refers to the lack of a reliable supply chain to meet the nutritional needs of an area. One of the main economic drivers of small towns across the United States is local agriculture, but these products make their way to grocery store shelves in larger cities. Without a population to support a local grocer, people who live in these communities must find ways to travel miles outside of their area to meet their nutritional needs.
Another program Pierce County supported with ARPA aimed to address the food desert in East Pierce County towns. With ARPA, Pierce County supported a local food bank's innovative idea to place refrigerated food lockers in rural areas to provide greater access to food for rural communities.
"The idea for these lockers happened the first month of the pandemic, but in March 2020, I was also in my first month on the job," said Stacey Crinch, CEO of The Market in Bonney Lake. "We were in a run-down building and it felt like everything was crumbling around us….except hope. The hope that maybe we could reimagine this whole food thing and create a supportive community around the concept of dignity."
Pierce County used ARPA dollars to seed a food locker pilot that has been so successful that The Market is looking to place 12 more locations in East Pierce County, including two of the next three sites being in Carbonado and Wilkeson. To date, the pilot food locker has delivered 1600 grocery orders to families in East Pierce County.
It's difficult to say for certain what the future is for all small towns, but in Pierce County, a lot of effort is going into keeping small towns thriving.
-30-