National Public Health Week
National Public Health Week
By Bryan Dominique, Communications Manager
Pierce County Council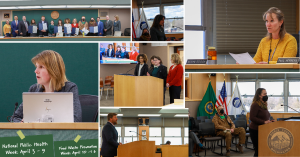 In 2020, we were collectively in the throes of the COVID-19 Pandemic. The world first became aware of the COVID-19 virus in January 2020 after China notified the World Health Organization they identified more than 40 cases of a pneumonia-like illness of unknown origin that didn't respond well to normal treatment.
After more than 118,000 cases in 114 countries and 4,291 deaths, the WHO declared COVID-19 a pandemic on Wednesday, March 11, 2020. From Jan. 3, 2020, to March 29, 2023, there have been more than one million deaths in the United States resulting from complications with COVID-19.
Three years have passed since the COVID-19 Pandemic began, and though many lives were changed during that time, life prior to the pandemic has started to return to normal. It was under this backdrop that the Pierce County Council proclaimed April 3-9 National Public Health Week in Pierce County.
"I was proud to take part in proclaiming National Public Health Week," said Jani Hitchen, Pierce County Councilmember (District 6) and Vice-Chair of the Tacoma-Pierce County Board of Health. "While public health has been around for a long time, I think the pandemic was a real-time learning experience about what public health involves and why it's important for a lot of people. Decisions made based on the best available science, educating the public around how to protect themselves and their families, and collecting data to track infection were key in our ability to make decisions in Pierce County. The TPCHD did a phenomenal job and saved lives."
This year's NPHW theme – Centering and Celebrating Cultures in Health – celebrates the role public health played in the pandemic, but it also focuses closely on the myriad ways public health professionals improve collective health. To capture this, there were seven themes:
Monday was Community: Whether virtual, physical or both, connection with community is vital to living your healthiest life. We must work together to ensure all communities have access and connections to affordable housing, education, food and transportation.
Tuesday was Violence Prevention: Violence is an ongoing public health threat because it creates more obstacles to living a healthy life. When we understand the causes of violence in our communities, it gives us a better chance at creating effective prevention strategies.
Wednesday was Reproductive and Sexual Health: We can work together and make sure everyone has the right and ability to access safe, affordable and individual care when making reproductive and sexual health decisions.
Thursday was Mental Health: Each year, one in five Americans will experience mental illness. Mental health is public health. Prevention, early detection and treatment of mental health conditions can lead to improved physical and community health.
Today is Rural Health: Rural communities are some of the most vulnerable populations to public health threats. We can work toward a more robust, inclusive public health system that ensures everyone is reached.
Saturday is Accessibility: We can close the health equity gap by reducing health disparities in health insurance, increasing physical accessibility to care, improving availability of appropriate care and building more inclusive public health programs and communities.
Sunday is Food and Nutrition: Access to fresh, quality and nutritious food is the foundation to living a healthy life. We can work together to make sure our communities have that access and advocate for those communities who don't.
The TPCHD is the local health authority here in Pierce County. They promote public health throughout communities every day by providing education, resources, and testing to treat community-based issues such as sexually transmitted diseases, drug and alcohol dependency, chronic disease prevention, and food sanitation.
"From the shores of Puget Sound to the summit of Mount Rainier, our public health workers protect and improve the health of all people and places," said Dr. Anthony L-T Chen, Director of Health with the TPCHD.
With the rise in public health awareness over the last several decades, people and communities across the United States are changing the way they care for their health by avoiding tobacco use, eating healthier, increasing physical activity, and preventing unintentional injuries at home and in the workplace. However, a lot of work is still needed in this area.
"The Pierce County Council's work to try and improve equity across the County has shown us that a person's health status can differ drastically by zip code," said Hitchen. "There are a lot of reasons for this, but predominantly it's a result of access to healthy food, education, health care, parks, recreation, and open space, and the social, economic and environmental health factors that surround an individual. Investments in these areas are needed to create equitable outcomes in public health."
In a separate, but related, proclamation, the Pierce County Council raised awareness on several of those issues impacting equitable health outcomes by recognizing April 10-16 as Food Waste Prevention Week.
Food waste impacts everything from environmental health, climate change, and access to fresh, quality and nutritious food. There are several organizations in Pierce County working to limit the impacts of food waste.
The Pierce Conservation District, an independent, non-regulatory local government entity, has a mission to equitably support community-driven solutions to our most pressing local environmental challenges. One way they do this is through the Gleaning Project. The Gleaning Project is a volunteer-powered program that works to reduce local produce waste, provide more fresh food to those in need, and build community by gleaning trees and bushes from farms and backyards. They share the bounty with local food banks, shelters, and families in need.
Food is Free Washington is a nonprofit that works to provide and enhance equitable access to, healthy, locally produced food at no cost, to those who need it, in the State of Washington. Food is Free Tacoma, a part of Food is Free Washington, hosts pop-up events where they give food away for free.
Both the Pierce Conservation District and Food is Free Tacoma glean trees and bushes, which keeps fresh, nutritious, and locally sourced food from going to waste.
In Pierce County Government, Pierce County Planning and Public Works are looking at ways to reduce food waste that makes it to the landfill by providing opportunities to compost unused food, along with implementing the County's Sustainability 2030 Plan. This is a Greenhouse Gas Reduction Plan that was passed by Pierce County Council in March 2021 and signed by Pierce County Executive Bruce Dammeier in April 2021.
Public health professionals and organizations across Pierce County are working hard to help improve individual, community, and collective health here in Pierce County, whether it be through reducing food waste, increasing access to healthy food choices, and improving community or addressing systemic issues like access to mental health treatment, sexual and reproductive healthcare, and disease protection.
If you're interested in learning more about public health issues impacting Pierce County, follow the Pierce County Council's Health and Human Services Committee. The committee meets on the first and third Tuesdays of each month at 9:30 a.m.
-30-