In May We Celebrate Asian American, Native Hawiian and Pacific Islander Heritage
In May We Celebrate Asian American, Native Hawiian and Pacific Islander Heritage
By Bryan Dominique
Pierce County Council Communications Manager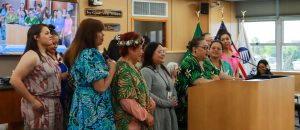 It's Asian American and Pacific Islander Heritage Month in Pierce County and across the nation. To honor this month and the County's Asian Americans and Pacific Islander communities, the Pierce County Council set aside time during their Tuesday, May 16 Council Meeting to proclaim May Asian American, Native Hawaiian, and Pacific Islander Heritage Month in Pierce County.
"Proclamations, we take them very seriously," said Lua Pritchard, Executive Director of the Asia Pacific Cultural Center, during her remarks to Council. "It's a symbol to us that you care about who we are and you recognize our existence within the area."
Historically, this hasn't always been the case. The Tacoma Riot of 1885 forcefully removed and displaced Tacoma's Chinese residents when a mob of white men burned the Chinese residents' homes and businesses, marched them to the Railroad Crossing to buy their own ticket to Portland, Oregon, and those who could not afford a ticket had to walk along the Northern Pacific Railway, the railway their labor helped build. Chinese Reconciliation Park in Tacoma – established in the early 1990s – memorializes this riot.
From the late 1880s to 1942 Tacoma had a robust Japantown spanning eight blocks in downtown Tacoma with more than 800 Japanese immigrants, their American-born children, and more than 180 businesses; however, with the bombing of Pearl Harbor in 1942, Japanese Americans were forced to Camp Harmony situated at the Western Washington Fairgrounds in Puyallup, which was used as a transfer station to internment camps. Following World War II, only 174 Japanese residents returned to Tacoma.
In more recent history, there was the targeting of South Asian Americans, especially those who are Muslim, Hindu, or Sikh, after the national tragedy of 9/11, and the xenophobic attacks during and continuing after the COVID-19 pandemic.
The Pierce County Council acknowledged all of this in the proclamation, and went further by acknowledging "the prejudice and injustices the Asian Americans, Native Hawaiians, and Pacific Islanders have endured, including the Page Act of 1875, the Chinese Exclusion Act of 1882, the incarceration of 120,000 Japanese Americans during World War II per Executive Order 9066."
Today, however, Washington State is fortunate to have more than 700,000 Asian American, Native Hawaiian, and Pacific Islanders living here and representing 48 Asian and Pacific Island nations.
"It's my honor to bring this forward," said Vice Chair Marty Campbell (District 5). "I can't say enough, having represented the Eastside of Tacoma on [Tacoma] city council and county council now for over a dozen years. Just the growth I've seen and participation within the Asian and Pacific Islander communities. It's more celebrations and community gatherings that are so much more influenced in policy because [they] do show up and bring ideas and people."
Asian Americans, Native Hawaiians, and Pacific Islanders are devoted community members who serve as leading researchers in science, medicine, and technology, as innovative farmers and ranchers, as distinguished lawyers, judges, civic, and government leaders, as hardworking business owners, as artists, as passionate educators, as healthcare heroes, and as brave soldiers who defend our country.
In 1992, Congress passed a law that annually designates May as Asian Pacific American Heritage Month. May was picked to commemorate the immigration of the first Japanese on May 7, 1843 and the completion of the transcontinental railroad on May 10, 1869.
Join the Pierce County Council and Asian American Pacific Islander communities as we recognize the history, contributions, and achievements of Asian Americans, Native Hawaiians, and Pacific Islanders.