The True Cost of War
The True Cost of War
By Jani Hitchen, Pierce County Councilmember (District 6)
Pierce County is no stranger to the military. It's not uncommon to see and hear Army helicopters and Air Force planes overhead or hear artillery booming in the distance as service members train. Many Pierce County cities have community partnerships with units stationed at Joint Base Lewis-McChord (JBLM) and have built memorials in honor of those units and the service members who gave the ultimate sacrifice.
With the 40,000 service members stationed at JBLM and the more than 90,000 veterans who call Pierce County home, we have a special connection to our nation's military. That connection makes Memorial Day especially important.
I have the privilege of serving District 6 on the Pierce County Council, which is home to a major portion of JBLM, including the service members, families, and veterans who live in the area. For them, Memorial Day is more than a holiday.
It wasn't long ago our nation was involved in two conflicts in Iraq and Afghanistan. Go back a little more than a decade and our nation was involved in Desert Storm. Go back a few more decades, and we had service members fighting in Vietnam. Sadly, many were killed in action answering the nation's call to serve.
Before that, there was the Korean War, WWII, and WWI. Veterans of these wars are becoming increasingly hard to find. In fact, the last surviving American veteran of WWI died in 2011.
While Memorial Day is truly important to the families and friends who lost people during America's conflicts, I ask that we strive to make it equally as important to us. As a nation, we take one day out of the year to remember our fallen service members. We do this because it is important to remember.
As a nation, we debate about the cost and merits of the wars we fight, of the way it reflects on our nation, which are all valid conversations to have. The true cost of war, however, is measured in the lives cut short and those left behind to carry on their memory. The true cost of war is the child who grows up without a father or mother or the partner who loses the opportunity to grow old with their significant other. It's the parents, friends, extended family members, and the community that say goodbye too soon.
This Memorial Day let's reflect on the generations of service members who have fought in our nation's wars and never came home. Let's think of the gold star families, the parents who lost a child, a spouse who lost a partner, or the child without a parent.
Let's remind ourselves of the true cost of war and commit ourselves to keep that in mind next time we ask our service members to go abroad and fight.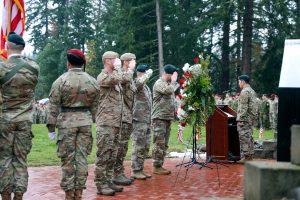 Councilmember Hitchen represents the communities Anderson, Ketron, and McNeil islands, Parkland, Steilacoom, JBLM, and the cities of DuPont and Lakewood on the Pierce County Council. She is also the Chair of the Council's Health and Human Services Committee and member of other Council standing committees, including Public Safety and Economic and Infrastructure Development.