Partnership means more shelter beds for Pierce County
Partnership means more shelter beds for Pierce County
Today a big step was made by Pierce County and our partners at the cities of Tacoma and Lakewood and the Low Income Housing Institute: A 94-room hotel was purchased to provide more shelter beds to our region.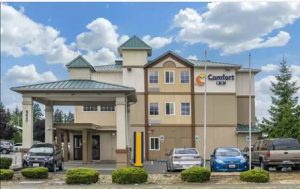 The need to address our homelessness crisis in a humane and holistic way is a top priority for the county. Adding shelter beds is one way to do this and purchase of this building is a piece of the housing puzzle needed to help meet Council's goal to have a plan ready by Nov. 1 to end street homelessness in Pierce County. (Yes, an audacious yet worthy goal.)
This project brought together many community partners to help pay for this much-needed emergency shelter space. But it will be more than a place for people to sleep at night. It will also provide services to help people find stability and get back on their feet.
Ultimately the goal for the site is to transition it to permanent, supportive housing after it is no longer needed as an emergency shelter. When this happens, it will add to the inventory of something our region needs: deeply affordable housing.
To help with the purchase of the property Council allocated $5 million from the federal American Rescue Plan Act the county received. This investment is a great use and leverage of this federal money.
Other capital investment contributions for the $8.8 million purchase price of the hotel came from the cities of Tacoma and Lakewood.
In the first two years the Low Income Housing Institute (LIHI) operate the building as an enhanced shelter to address the region's homelessness crisis. It will provide shelter to 120 men, women, and couples, including those with pets.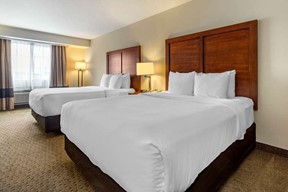 The hotel has spacious hotel rooms, generously sized common spaces, and room for management offices, counseling offices and a live-in staff person. Each unit has a refrigerator, microwave, TV, WiFi, closet, private bath and A/C. The building has sprinklers, elevator, laundry room, double paned windows, security cameras and parking.
The hotel will offer shelter to vulnerable people who are experiencing homelessness during the pandemic. People will be eligible to stay at the site for three to six months. Staff will be on site 24-hours a day, seven days a week. Referrals will come from the city of Tacoma's HOT team, local service agencies and the city of Lakewood. On-site case managers will help residents with housing and employment applications, including helping them obtain identification cards and other documentation.
The city of Tacoma also committed to two years of funding for operation and services.
After the initial two years, the property will shift to providing permanent supportive housing (PSH) for people experiencing homelessness. LIHI plans to apply for additional funding from the state Department of Commerce to support its operations.
In a prepared release announcing the purchase of the hotel, LIHI Executive Director Sharon Lee shared her thanks for the partnership.
"We are grateful to Pierce County and the cities of Tacoma and Lakewood for their foresight and compassion to help our unhoused neighbors," Lee said. "We have the opportunity during the pandemic to purchase a building to provide 120 people with a safe, warm place to get out of the cold and improve their lives this winter."
For information about the Low Income Housing Institute, please visit www.LIHI.org.