Veteran Community Listening Session wrap-up
Veteran Community Listening Session wrap-up
Thank you to those who joined me March 10 for the virtual community listening session that I held to connect active-duty military, veterans and their families with information about available resources in Pierce County.
At the event I was joined by Pierce County staff, Joint Base Lewis-McChord representatives and community members, which resulted in good questions and great conversation.
If you missed the event, you can find the slides that were presented – and are full of information! – on my webpage here, or pasted lower down in this blog post.
Because there were some questions that didn't get answered during the event, I followed up and have shared the questions and the responses below. I also included additional resources and details around several programs that were discussed. I hope you find this information helpful.
Special thank you to my outstanding panel that included:
From JBLM:
Maj. William Leasure
Lt. Col. Stephen Flannigan
Ms. Jennifer Snyder (Information and Referral/Outreach Services Manager)
From Pierce County:
Robert Sheetz, Veterans Programs Manager
Larry Turk, Veterans Officer
Q&A and additional information
What programs do we have for transitioning active duty or veterans in Pierce County?
Answer: The ETS Sponsorship Program, established in partnership with the Department of Veterans Affairs (VA) and the Department of Defense (DoD), exists to sponsor service members through the transition process from military to civilian life. This is created by developing a personal relationship between the service member and a sponsor, by connecting the member and their family to the VA, community programs and local non-profits. If you are interested in becoming a sponsor or are looking for a sponsor as you transition from Active Duty, please go to ETS Sponsorship Program.
Do we have a program in Lakewood that is similar to 5th SFAB's Community Engagement Program (which focuses on Parkland, Spanaway & Midland)?
Answer: The Lakewood Community Connector contact is CPT Courtland Henderson for the 2-2 SBCT "Lancer Brigade".
What supports are there if you are a survivor of a deceased veteran?
Answer:
Call 253-966-5047 to get connected with resources for dealing with the death of a veteran.
The JBLM Survivor Outreach Services Coordinator is available to support survivors (spouse or dependent children) of retired veterans regardless of branch. The survivor must hold or be eligible to hold a Department of Defense Identification Card. JBLM Survivor Outreach Services
If you are a homebound veteran, or you are a caregiver for a homebound veteran what supports are available?
Answer: PC Veterans Services now does home visits out of a mobile unit. Call 253-798-7449 or email veterans@piercecountywa.gov.
What is the best way to contact services and supports ON BASE?
Answer:
What is the plan for getting EV (electric vehicle) chargers on base?
Answer: While there is support for this, there is not a specific answer at this time. One of our panelists said: "I will also ensure that our leadership is made aware that our visitors to the installation would love to see this addition, if possible."
Are there other resources out there that could be of help or that are organized and easy to use?
Answer: The Military One Source link pulls together resources for those needing support including calling or chatting to get support.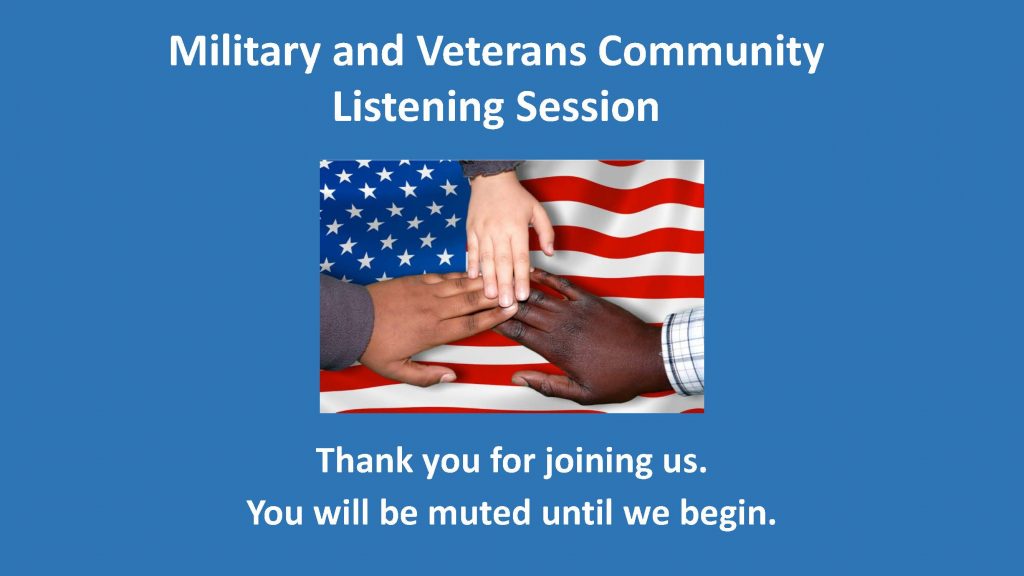 Click to view the slides from the March 10 event
I know that there were some comments towards the end of the evening about creating more connections between the county and those living on base. I believe that conversations like this and the work done with all our partners will help build a stronger community and support system for our active-duty personnel, the family of active duty, veterans of all generations and their families. Please reach out if there is something you need that is not addressed here or if you have other resources or ideas.
We are stronger together!
Respectfully,