We All Want a Place to Call Home
We All Want a Place to Call Home
Housing & Homelessness:
We all want a place to call home
Welcome to my first Hitchen Post entry for 2023!  I thought I would start off with a blog about something that has an easy answer.
HOUSING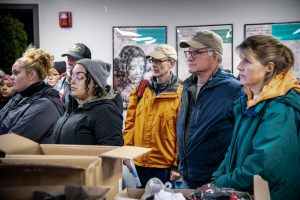 That's it. That is the answer.
Wait, if it is that easy, why haven't we fixed it?
Now that is the conundrum.
If it was as easy as just housing, there shouldn't be a problem. Just build more housing.
Sadly, there are a variety of factors that impact housing and homelessness in Pierce County, the State of Washington, across the country and around the world.
This blog is inspired by a variety of events and activities I participated in January and February. These different events shed some light on how broken our system really is, and why it seems to be getting worse. However, there is hope coming in March.
Let's look at the spectrum of housing to homelessness:
Home Ownership: You have the resources – savings, income, and ability to access a mortgage to purchase a home. With that purchase comes the responsibility of up-keep, insurance, taxes, and the debt. When something in your life changes (divorce, loss of a job, medical costs, death in the family) you suddenly find your situation has changed. And yet, you still have all the costs. The flip side is you have an asset you could sell.
Many homeowners, especially seniors and those on fixed incomes, can't afford to move. They bought their house when it made sense financially, and now things have changed. They can't find something in Pierce County that meets their needs AND is affordable. Finding a rental that takes pets, is wheelchair accessible, or isn't double what they are paying now is a reality that many face. They will stay in a home they can't afford or can't take care of, and this leads to all kinds of problems.
Renters: You entered a lease with a landlord with the resources to make it work. However, rents go up and personal situations change. Just like with home ownership, your job or relationship status can change, you have incurred medical debt or added to your family. The rent for the same space doubling in a year sounds ridiculous but it is happening.
While the state of Washington and some of our cities have put protections in place, it is still a precarious situation.  Once you get to a point that you cannot afford the rent, you must find a place that meets your needs, and you can afford. And when you cannot find a place, then what?
Supportive Housing: This is defined as housing that comes with physical, behavioral, or social supports, and is a HUGE need in our county. This could be for our young adults leaving foster care, to those with mental health concerns that need support to stay safe. It could be for adults with disabilities that need help with everyday tasks or can't safely be left alone. We have added several hundred of these types of units to our inventory in the County, but we need HUNDREDS more. These are specifically designed for people that cannot successfully maintain on their own, and don't have family around to help. Without these supports, they often fall into our chronically homeless population, living in tents, cars and trailers across the region.
Transitional Housing: This could be apartments and rooms for those fleeing domestic and gender-based violence. A family that was evicted and has small children. A senior that is waiting for a spot at supportive housing facility. The couple renting had their unit sold quickly, and they couldn't find a place quick enough and had no place to go. This type of shelter might be used only during the immediate transition from one home to another. In a tight market, like what we are experiencing right now, it can be challenging for anyone to find housing. Add limited resources, physical space needs, or having children or a pet; finding a new place can be difficult.
We have added Safe Parking to this list, and I really believe it is transitional housing. It allows individuals and families to stay together, stay local to their community and stay in a car or RV depending on the provider. This is new to Pierce County, and really is a blessing. It is low impact but provides safety and continuity for those experiencing some of the worst times of their lives. They are often truly in transition, and most are employed or in school. They just can't find a place to call home. This gives them a consistent end point, and a connection with resources.
Emergency Shelter: There are many types, but it is what most people think of when it comes to homelessness is a congregate shelter. They think barrack style shelter where you have dozens of bunk beds set up in a large space and people co-mingling. The reality is we still have that, but we also have hotel rooms, shared spaces, small apartment style units and other ways for those experiencing homelessness to find support, help and privacy. The point of emergency shelter is always to transition to something permanent. The problem is there simply is not enough to do that transition.
Unsheltered: For almost 2,200 individuals in Pierce that have nowhere to go, they can be some of the most challenging to support, and the most in need of support. Many of those have lived rough for years or decades and accumulated so much trauma that they just don't qualify for any of the programs we have access to.
People will say, 'why don't they just get a job?' But when you are literally surviving, not sure where you will sleep, store your belongings, or even know where you will be able to use the bathroom, finding a job can be a challenge. We know that many use substances to stay awake, sleep or just feel better in the cold and wet environment. They can't shower or do laundry; they don't have a driver's license or bed. How do they go about getting a job? You must start with the basics. You must build trust, so they are willing to get help. Whether that is for substance use, mental health, basic needs or going inside. It takes time and you need to have several conversations.  When they move around OR are forced to move around, it can be hard to ever get to that level of trust.
The county moves dozens of people into housing every month, but dozens more find themselves without a home. It is like trying to bail out a boat but no plan to fill the leak. That is where building housing of ALL types comes in.
There is Hope
I am hopeful later this month we will pass the 1/10th of 1% sale tax for housing and homelessness for our County. The City of Tacoma and many other cities and counties have passed this in Washington state. Every system I discussed above can be addressed and supported using these dollars.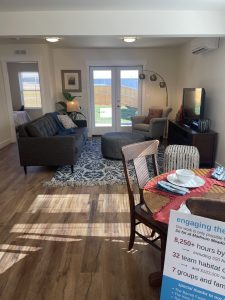 We need housing that can be built, like the many Habitat for Humanity projects that are bringing permanently affordable housing units that people can purchase. These are units that will stay in the hands of residents of our County that are income constrained but working.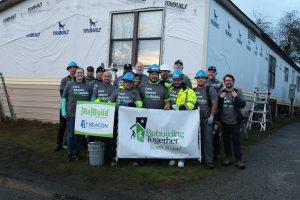 We need to be able to provide funds for fixing and maintaining our aging housing stock, like Rebuilding Together South Sound recently did when they replaced the siding of an aging modular home. A single mother of five bought what she thought would be her forever home, only to find that there had been water damage. She couldn't afford to make the repairs on her own and Rebuilding Together brought in an outside company to provide the supplies and skilled labor. They have installed ramps for seniors and made repairs on homes for our disabled and aging residents that just want to stay in their home.
We need programs like New Hope Mobile Response Team that takes their shower and laundry trailer out to our safe parking sites and other shelter locations across our County. They only go out every other week to some locations, which is wonderful, but truly need more opportunities.
We need supports for emergency safe housing for people fleeing domestic violence so they can access the courts, advocates, medical and counseling services to begin to heal. They need privacy and have sometimes fled with nothing.
We need more than 57,000 affordable (50% or lower area median income) housing units. This could be apartments, plexes, townhomes, single family homes, and even other types of housing that are new to our County. The point is our market is doing just fine and making plenty of money building for everyone else. Without either doing the building ourselves or partnering with other organizations, those units simply will not get built. There isn't enough profit in doing affordable housing at this scale.
All that being said, there are some steps I hope we will take in the next couple of months that will help. They are investing funds specifically to support our chronically homeless, putting out more funding opportunities for supportive services for those with mental health and substance use disorders and passing the 1/10th of 1% to help in the many ways I mentioned above.
I'm signing off to go work on these projects and hope you can be supportive and have a little better understanding around WHY this isn't just a simple fix.
Jani