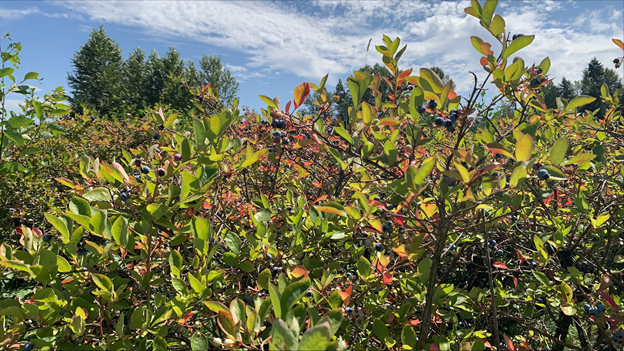 The Canyon Road Regional Connection Project is investing more than $1.5 million in environmental mitigation which includes a plan to preserve, rehabilitate, and restore over 10 acres of wetland. An integral patch of that land is home to a former blueberry farm that we acquired as part of the development plans for the project.
And just like that, it's blueberry harvesting time again! We're partnering with Harvest Pierce County to harvest the blueberries that still remain on this patch of land. Last year, Harvest Pierce County volunteers harvested over 100 pounds of blueberries which were all donated to food banks in the area.
Interested in joining Harvest Pierce County? Then we have great news: they are looking for volunteers! Sign up and register here!
In the center of the blueberries runs Canyon Creek which is home to rich biodiversity and a historic run for spawning salmon. In the future, the project will restore Canyon Creek from its current ditch-like state to a natural, meandering channel designed to support fish. In-channel habitat structures, like root wads and logs, will be added to provide stream complexity and habitat for wildlife. The land surrounding the new stream will be restored to a forested wetland that will one day provide shade to Canyon Creek – supporting the long-term goal of restoring salmon habitat to the area.
Please get in touch if you have any questions about our environmental priorities or this harvesting opportunity. We hope to see you there!
You can register to volunteer with Harvest Pierce County here. You can also like them on Facebook and follow them on Instagram to learn about next year's gleaning opportunities.