Cayden Osley was taken into custody by Pierce County SWAT after it was reported he was in a house in Spanaway.  Olsey surrendered himself peacefully and was booked into the Pierce County Jail for Murder.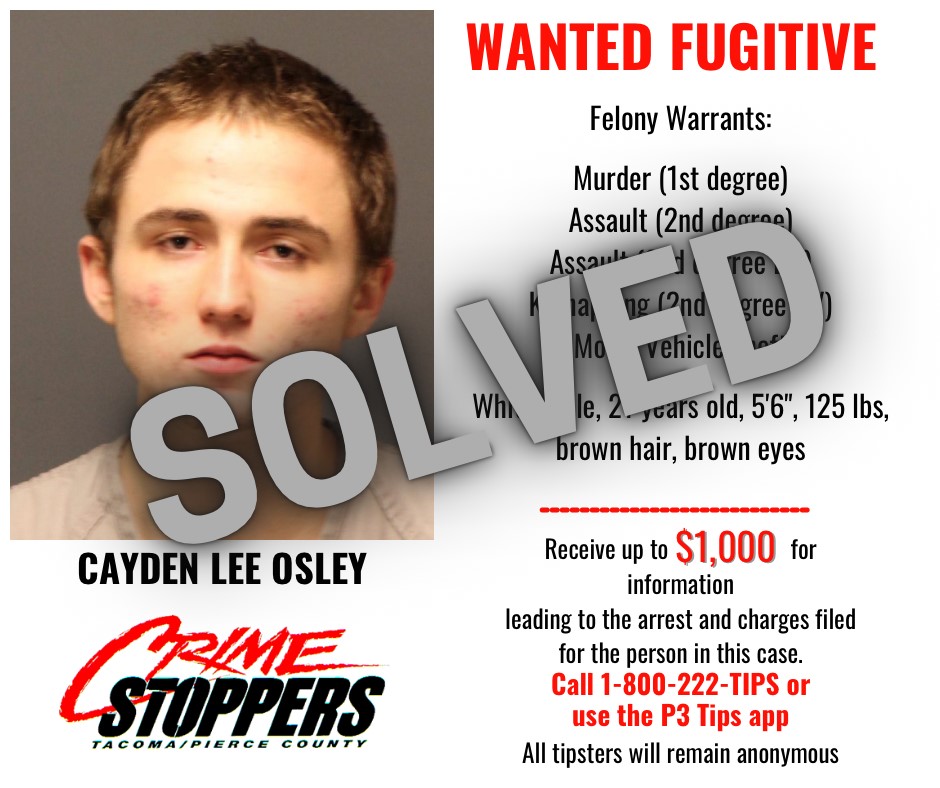 ***UPDATE 1/12/22***
Our detectives need your help to locate murder suspect Cayden Lee Osley. A felony warrant has been issued for his arrest for murder in the first degree and assault in the second degree.
On January 1, 2022, Osley shot and killed an acquaintance while they were sitting inside a car in Parkland. He then held the driver at gunpoint and ordered the driver to take him to another location.
Osley is described as a white male, 21 years old, 5'6″, 125 lbs, with brown hair and brown eyes.
He has additional warrants for assault and kidnapping after stabbing his girlfriend in November 2021.
If you know where he is, please submit an anonymous tip using the P3 Tips App or by calling 1-800-222-TIPS.
—————————-
ORIGINAL POST
Shooting/Homicide in Parkland
– – – – – – – – – – – – – – – – – –
At approximately 0520 hours, 0n 01-01-2022, we received a 911 call saying a male had been shot near Wheeler St S and Ainsworth Aves S in Parkland. Deputies arrived on scene a located a male deceased inside of a vehicle.
Deputies checked the area and were unable to locate the suspect. We have been knocking on doors trying to find witnesses early this morning. Our detectives and forensic investigators are now documenting the scene and will have Ainsworth Ave S shut down for a few hours.