***UPDATE 2/4/22***
Detectives are still trying to locate footage of the vehicle associated with this homicide. They have expanded the area where they believe the car may have travelled immediately following the shooting. If you live in the outlined area, please check your surveillance system to see if you have footage of a white car followed by a truck during the following time frame: Jan 22, 11 – 11:30pm. We appreciate your help.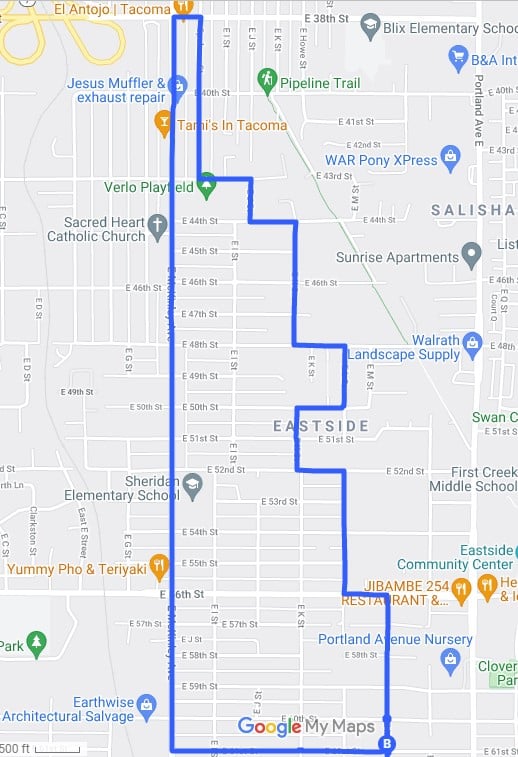 —————————-
***UPDATE 1/24/22***
Our detectives are trying to track down a vehicle associated with this homicide. Two suspects were seen getting into a white or light colored four-door sedan with black wheels, and the vehicle was making sputtering noises. The victims followed the suspects' vehicle, but eventually lost sight of it.
We are asking anyone who lives along the path highlighted in the map (or near it) to check their surveillance cameras for the vehicle. The time frame is Jan 22 from 11:00 – 11:30pm.
If you believe you have footage of the car, please send us a private message.
If you have information about the crime, please submit an anonymous tip to Crime Stoppers using the P3 Tips app or by calling 1-800-222-TIPS.
———————-
ORIGINAL POST
3 Injured, 1 Person Killed in Midland Shooting
– – – – – – – – – – – –
At 11:19 p.m. on January 22, 2022 our deputies were dispatched to a shooting at a quadplex near 76th St E and Golden Given Rd E. There were several call of shots being fired in the area and when deputies arrived they contacted two people who had been shot.
A few minutes later, Tacoma Police Officers were called to E 38th St and E I Street for a homicide. The caller stated his family member had been shot and was deceased. It was quickly determined that this victim had also come from the shooting in Midland. In total four people were shot and one of them died from their injuries. The other three people had serious injuries.
The deceased victim is a 27 year old male. The victim with him on E 38th St was a 38 year old male. The two victims found at the complex were 29 and 23 year old males.
Detectives and Forensic Investigators were called out to both scenes to collect evidence. No suspects have been arrested at this time.