Last Saturday I was awed and inspired. Having been born and raised in our County and having had parents that set a tremendous example of giving back to the community through volunteering, I thought I was aware of most of the organizations and volunteers that support others. At our Annual Volunteer Appreciation Brunch, I was surrounded by hundreds of local residents who choose to donate their time to our community – many of whom I met for the very first time. They are an incredible group of coaches, master gardeners, CASAs (Court Appointed Special Advocates for children in the legal system), playground builders, orienteers, radio operators, quilters and tailors, and many other kinds of volunteers. Council Chair Doug Richardson and I were able to honor these amazing people – alongside several of our other Pierce County leaders.
[Best_Wordpress_Gallery id="12″ gal_title="2017 Volunteer Appreciation"]
Several awards were given to extraordinary people and groups but I was especially moved by three. The first was Jean Coy, who has volunteered more than 10,000 hours helping our seniors who transition to long-term care – a very challenging time for seniors and their families, too. Second, Ted Estes has volunteered for the past 56 years as a youth football, basketball and baseball coach! During that time he has coached 118 different teams and nearly 2,000 boys and girls. Incredible! Finally, Debra Carter became a volunteer CASA following the horrific deaths of Braden and Charlie Powell – she wanted to be part of preventing another such tragedy. Just since 2014, she has advocated on behalf of 16 different children, making sure they have the best possible futures.
A special thanks to the committee that put this tremendous event together, including committee chair Scott Hall, Lillian Allred, Carrie Appling, Helen Arnestad, Jennifer Sergent, Tami Cooper, Chad Harvell, Martha Keogh, Kyle Wintermute, Natalie Stice, and Darleen Price
Watch this great story by PCTV about our volunteers being honored:
(Story Updated)
We also owe a debt of gratitude to DEM and the SWM maintenance and operations crews who literally moved earth (and a lot of snow) and equipment on a 4,400 foot mountain peak to restore emergency communications to the remote 3 Sisters area, southeast of Buckley. Given the terrain, elevation, and time of year involved, it was an especially difficult project to complete. But, thanks to their skill, persistence and collaboration between DEM, SWM, various other state and federal agencies and the Muckleshoot Tribe, the radio communication system is back on line to support our community. I tip my hat to Lowell Porter, Scott Heinze, Tim Lenk, Jorge Marciano, Brian McDonnell, Greg Flanders, Charlie McKasson, Greg Ford, Michael Dodd, Ryan Boote, Terry Backstrom, Ben Armstrong, David Larsen, Jr., Jeff Gratzer, Cody Hill, Tom Sharp and Rance Smith for their quick response and effective resolution. Well done!
In closing, I want to give you a preview of the soon-to-be-released employee engagement survey. You will hear more about your specific department's results in the days ahead but I read the most recent County-wide survey results* with great interest. I was pleased to see people mostly feel they are respected and treated with dignity and that they know what is expected of them. However, we have work to do to keep employees informed on what's happening in their department. Strengthening communication with employees is a top priority of mine and will be something we will always need to emphasize.
Thanks for reading!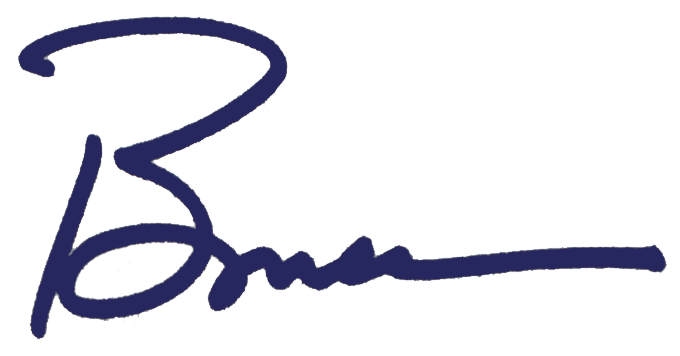 Bruce
P.S. HR is hosting a peanut butter drive for the Emergency Food Network. It has ignited quite a brand controversy – Skippy or Jif! I believe the more critical issue is creamy v. crunchy!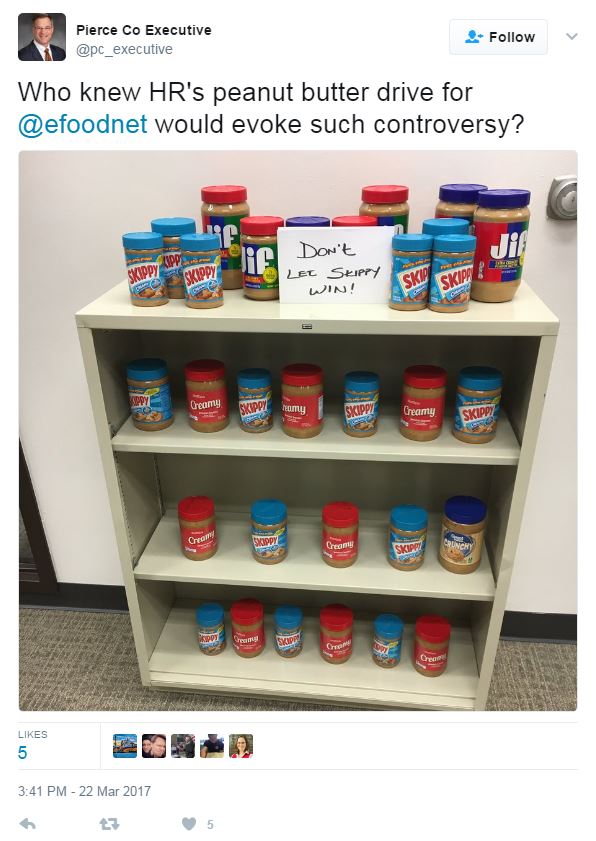 * Must be connected to Pierce County Network to view data.