Our Department of Emergency Management (DEM) could not have asked for a better setup for Emergency Preparedness Month.  Flooding in Texas, fires near Crystal Mountain with the ever-present smoke in the air, an 8.0 earthquake in Mexico and now Irma is bearing down on Florida!
I was up in Greenwater and at Crystal Mountain this morning checking on the efforts of the more than 400 people fighting that fire in extremely rugged terrain. Incredibly, the Norse Peak Fire has now burned more than 70 square miles of forest.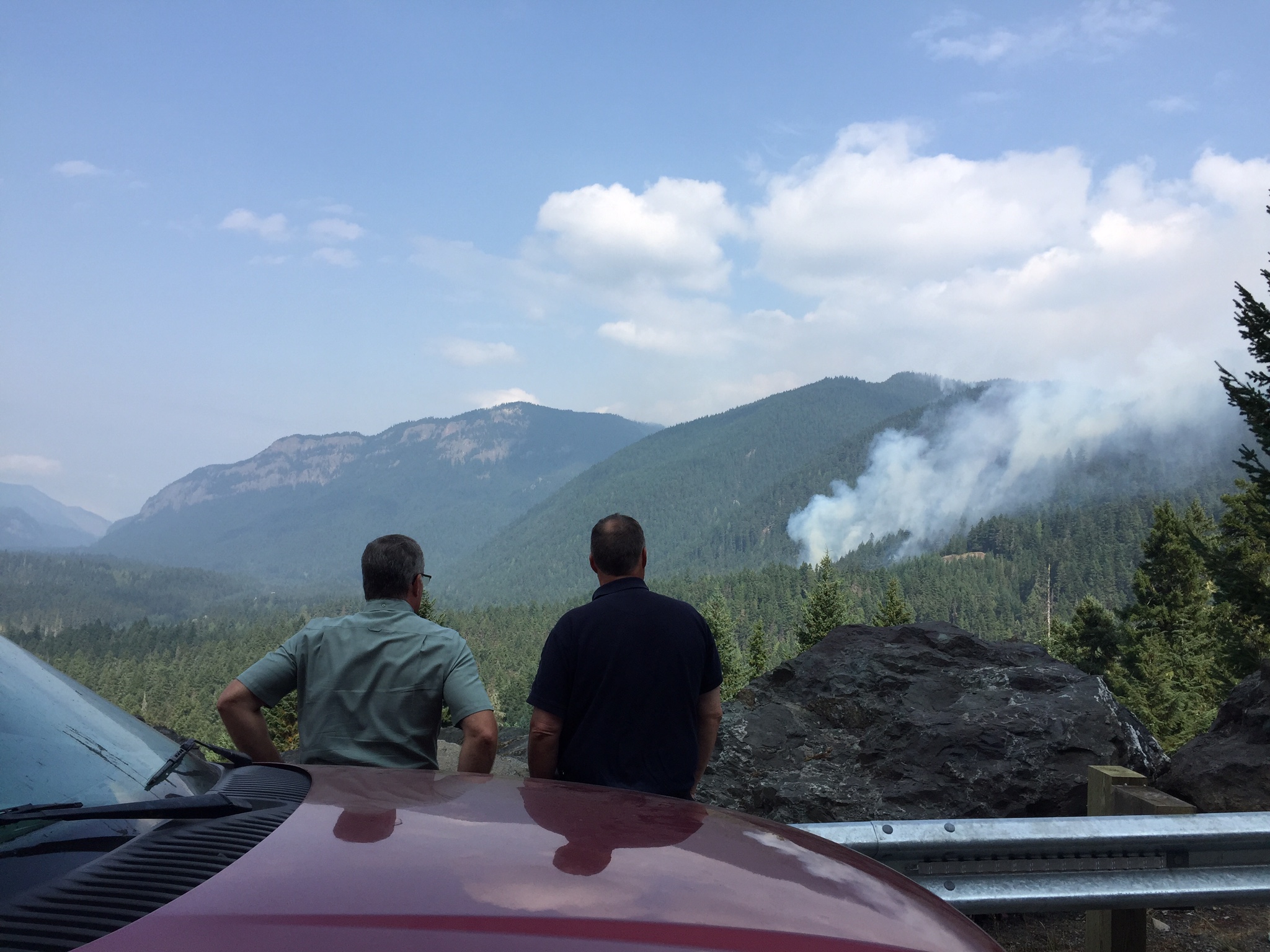 Checking out the fire with Buckley Chief Alan Predmore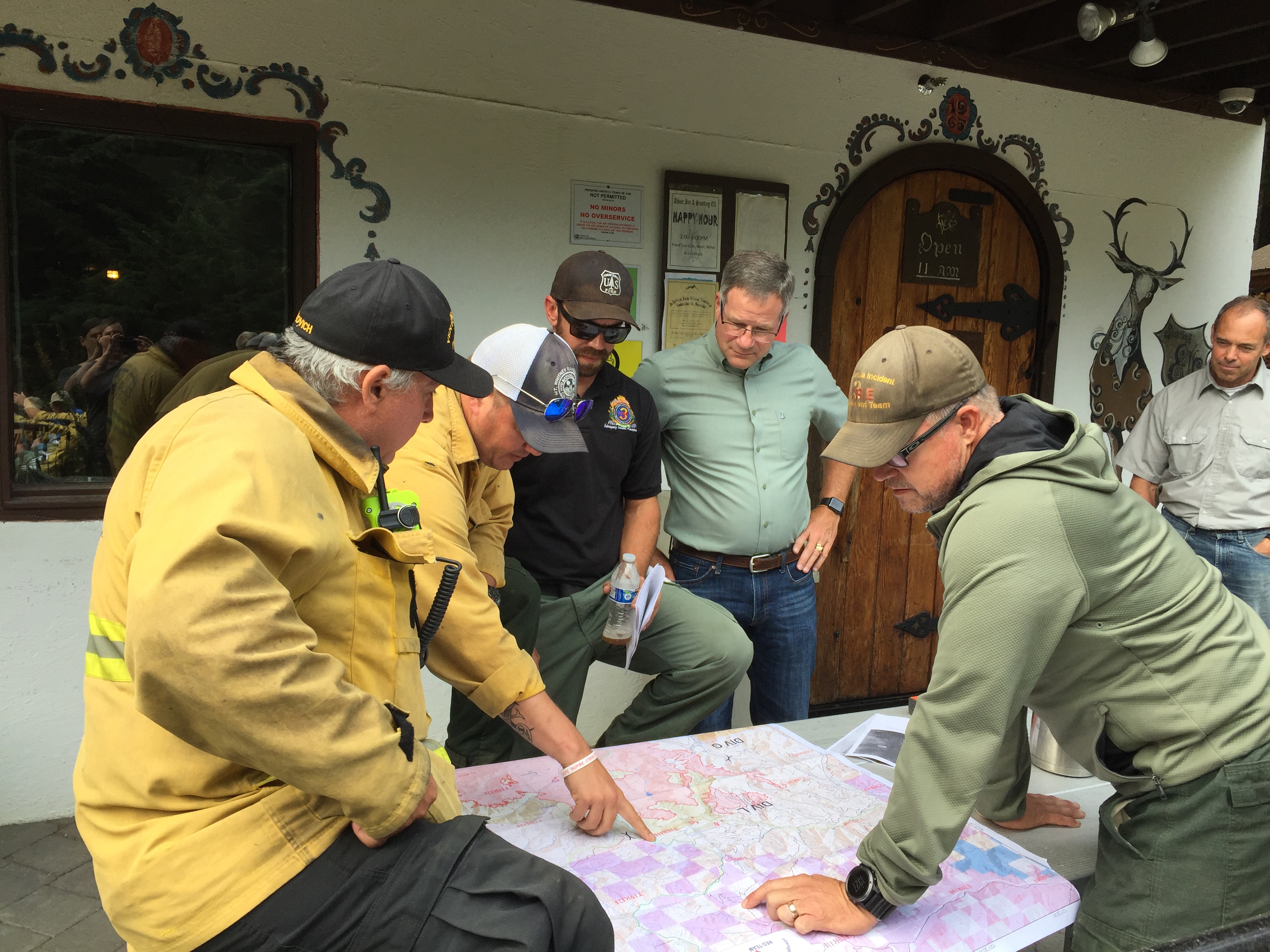 Getting briefed by fire officials
While wildfires, hurricanes and flooding are in the news today, the odds of a serious earthquake hitting our region are high. We are perched on an active fault that could rumble at any time.  It's not very comforting but the seismologists who study these things tell us that we are well overdue for the "big one" that could devastate our region.
Earlier this week we sent out a video of some guy asking you to get prepared for dealing with a disaster.  He wasn't kidding about the need to get ready.
Do I have your attention, now?
As public servants we have an obligation to take care of the more than 800,000 people who reside in Pierce County – and that is especially critical in a disaster.  But, if we aren't prepared at home we won't be able to take care of our duty.
You need to be ready to take care of yourselves and your family for two weeks. That includes food, water, prescriptions, clothing and anything a pet may need. However, in the event of a serious disaster, your plan for your family means they need to be able to take care of themselves without you – while we are taking care of the rest of our citizens.  For me, this meant re-evaluating my previous plans and thinking about what has changed.  Today, in the event of a serious disaster, my personal plan has Lauren and Bosco linking up with our daughter-in-law, Molly, and granddaughter, Blair, at their house in University Place (I assume that my son, Brent, will be at Mary Bridge, where he works as a pharmacist, helping the injured.)  Our plan includes having some supplies that Lauren can take with her in our pickup truck.
Here's another chance to watch the video and get helpful tips for getting ready:
Have a kit – have a plan – be ready to help others!
When I think about how quickly we would need to spring into action and help county residents I rest a bit easier knowing that Lowell Porter and his team at Emergency Management are at the helm.  That's due to folks like Chelsey Bell. Chelsey is one of the "duty officers" on call to handle emergencies 24/7. She is smart, detailed and quick to respond. She builds my confidence every time I call, which has included late at night and early in the morning!
I'm confident we will be in good hands when an inevitable disaster hits but it's up to all of us to do our part to be ready to get to work, if needed.
I want to give a shout out to the members of the Washington Task Force 1, many of whom are from Pierce County law enforcement.  Along with a convoy of trucks, trailers and boats, they've been deployed for water rescues for Hurricane Harvey victims.  They return home today for some much-deserved rest.  They are heroes in every sense of the word.
Not surprisingly, our teams have been called upon again to support Irma in Florida.  Last night, Scott Heinze and the DEM were sending out a 20-person team, with more than 60 going out likely today.  I am thankful that our Pierce County professionals are prepared to help out others who need their support!
Thanks for reading,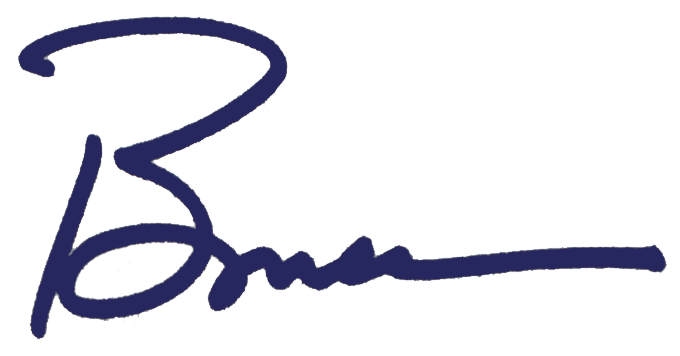 Bruce