Large handmade cedar bark canoes are on the move.  Some have been on the water and even in the ocean over the last month.
Paddle to Puyallup will kick off tomorrow morning and run through Saturday, August 4th as more than 100 cedar bark canoes will ask permission to land and come ashore at the former Ole & Charlie's Marina at the mouth of the Hylebos Waterway.  Canoes are coming – one from the east coast, as far south as Southern Oregon and as far north as Alaska.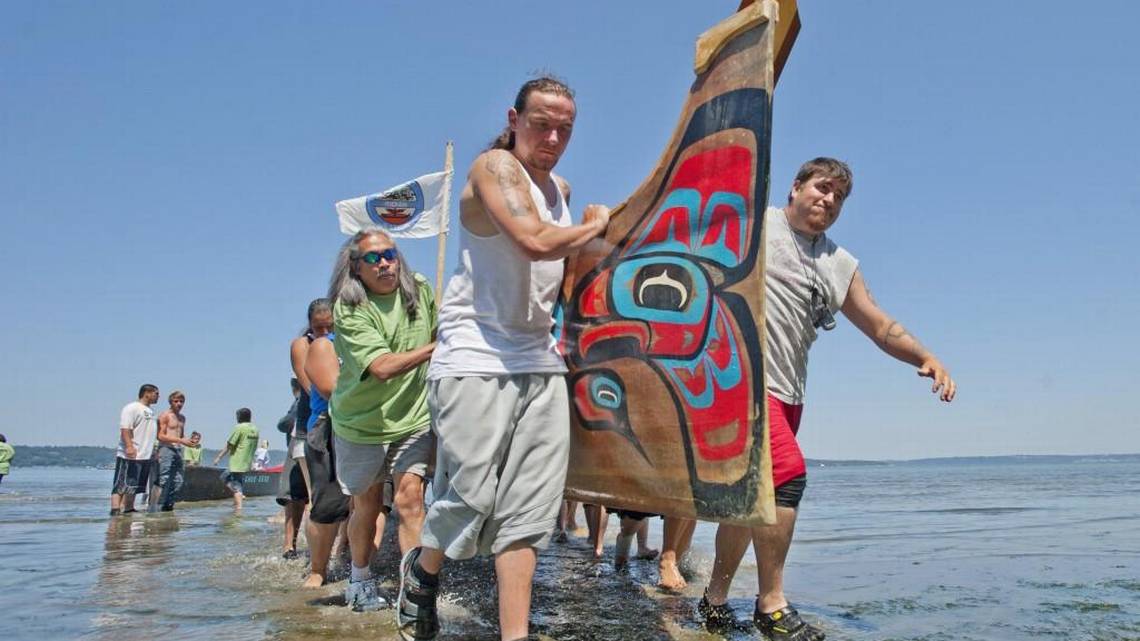 Canoe Journey has been going on since it's rebirth in 1989 when the Paddle to Seattle was organized to commemorate the state of Washington's statehood Centennial   Starting in 1993 and nearly every year thereafter, a Tribe or Nation has hosted Canoe Journey. This year, the Puyallup Tribe is our host, giving those living in Pierce County an opportunity to witness this annual awe-inspiring event.
Cedar trees have always been an integral part of my family for generations. We carved our own canoes, totem and masks.   The cedar tree was not only used to make dug-out canoes for travel, the cedar bark was used for baskets, utensils, capes, skirts, headdresses, art and medicine, to name a few uses.
I have personally processed the cedar bark that was harvested from my dad's property. My son and grand-nephew pulled in 20 to 30-foot lengths of cedar for me to peal, clean, dry, split and use to make baskets and other items.
Over the years I have experienced many canoe journey celebrations.  I helped with the preparations for Canoe Journey to Quinault in 2013 and, as a member of the Sotomish family, Chief's People of Quinault, I participated with my family in the 2002 Canoe Journey protocol ending in a huge give-a-way.
Every celebration I have attended adds another layer of richness to my life, fills me with happiness and pride.  I look forward to spending some quality time both volunteering and observing many of my favorite tribes and/or canoe families as they take the floor over the next week of celebrations.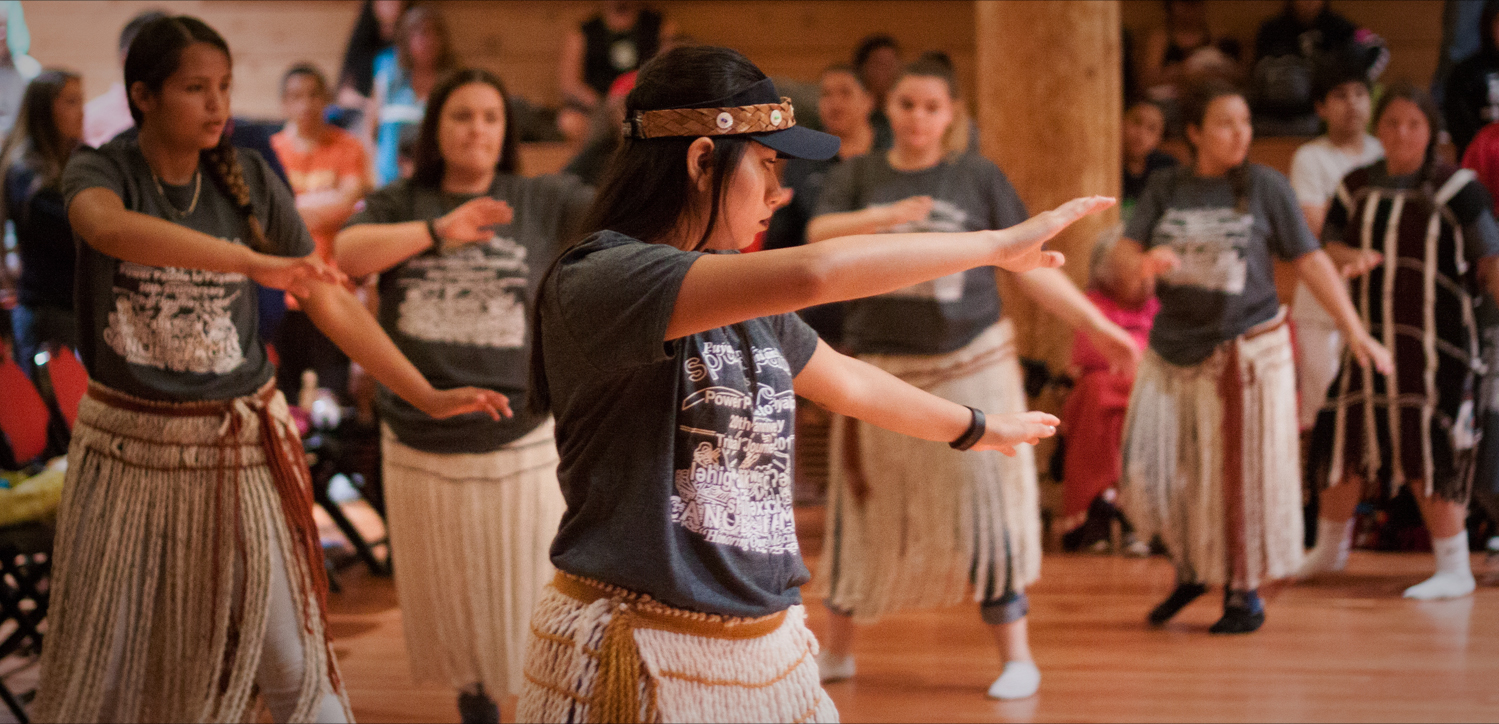 I encourage you to participate in this year's Canoe Journey and wanted to share a few tips about what to expect.
At the Landing on Saturday:
It's predicted to be a very hot and long day so dress comfortably, with a hat, sunscreen, water and a good heart
Lots of people
Canoe family or a tribe(s) will pull up to the shore, probably singing.  A spokesperson will ask the Puyallup Tribe for permission to land and the Puyallup Tribe will welcome them and give permission to land
They will land and pick up the canoe and carry it up to the landing
Highway 509 (Marine Drive) WILL BE CLOSED during the landing
Parking and shuttles to the landing will be provided starting at 8:00 am at 2102 Alexander Ave, Tacoma
At Protocol on Sunday – Saturday:
Each canoe family or tribe will have an opportunity to share who they are with songs, dancing, and stories at what they call Protocol
This will start Sunday morning at 9:00 am and run until midnight every evening
Breakfast and lunch will be provided for free to everyone
They will start with the canoe coming from the farthest away
On August 4th the Puyallup Tribe will have the floor.  There will be a lot of ceremony with speeches, songs, dancing, stories and gifting to dignitaries and to everyone there.
Bring spending money, water bottles, eating utensils, chairs and lap blankets. There will be food vendors and artists/vendors selling a wide variety of tribal items:  blankets, baskets, jewelry, art and the list goes on.
Since parking is limited at Chief Leschi School, parking is available in a Grass Parking Lot in Puyallup on 9th Avenue SW between 11th St. SW and 9th St. SW in the Fairgrounds Silver Parking Lot.
For more information on schedules, parking, shuttles and more, please visit the Power Paddle to Puyallup website.
There are many reasons to experience this amazing week of celebration.  Here are a few:
It's a great event to take your family to – and it's free
You will learn about tribal culture and traditions by directly experiencing them
It's like living tribal history –  past, present and future
You will always have fond memories of your time at Canoe Journey
You will gain a better understanding of tribes and tribal members, and better appreciate how we are similar and how we have beautiful differences
Sarah Colleen Sotomish
Manager, Tribal Relations