One of my favorite days of the year happened this week. No, it wasn't my birthday or anniversary. It was the day we recognize our Standing Ovation Award winners!
There were many deserving nominations received this year and I'm confident the selection committee had a difficult task in selecting the winners.
I'm delighted to introduce the accomplishments of our outstanding colleagues to you:
---
Sustainability (Team)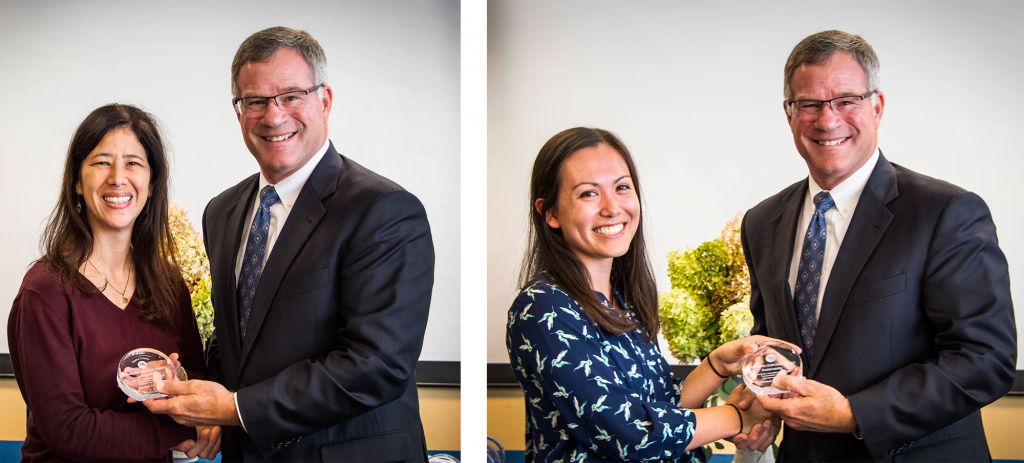 Have you ever sat in traffic on I-5 near JBLM? I have, too! As our largest employer, the base generates 100,000 daily trips to and from JBLM. That's a lot of cars on the road.
Thanks to the creativity and initiative demonstrated by Debbie Germer and Meredith Shores in Planning and Public Works, the number of transit riders at JBLM increased from 500 riders per month to more than 6,000 riders per month!
Not only did their JLBM Transportation Demand Management Project reduce car trips, but the addition of 120 bicycles on the base added to the effort to be a sustainable community partner. Plus, it helps keep our military partners fit and healthy.
Thanks, Debbie and Meredith, for supporting an important partner and reducing the number of "drive alone" trips along that congested stretch of the freeway!
---
Partners in Service (Team)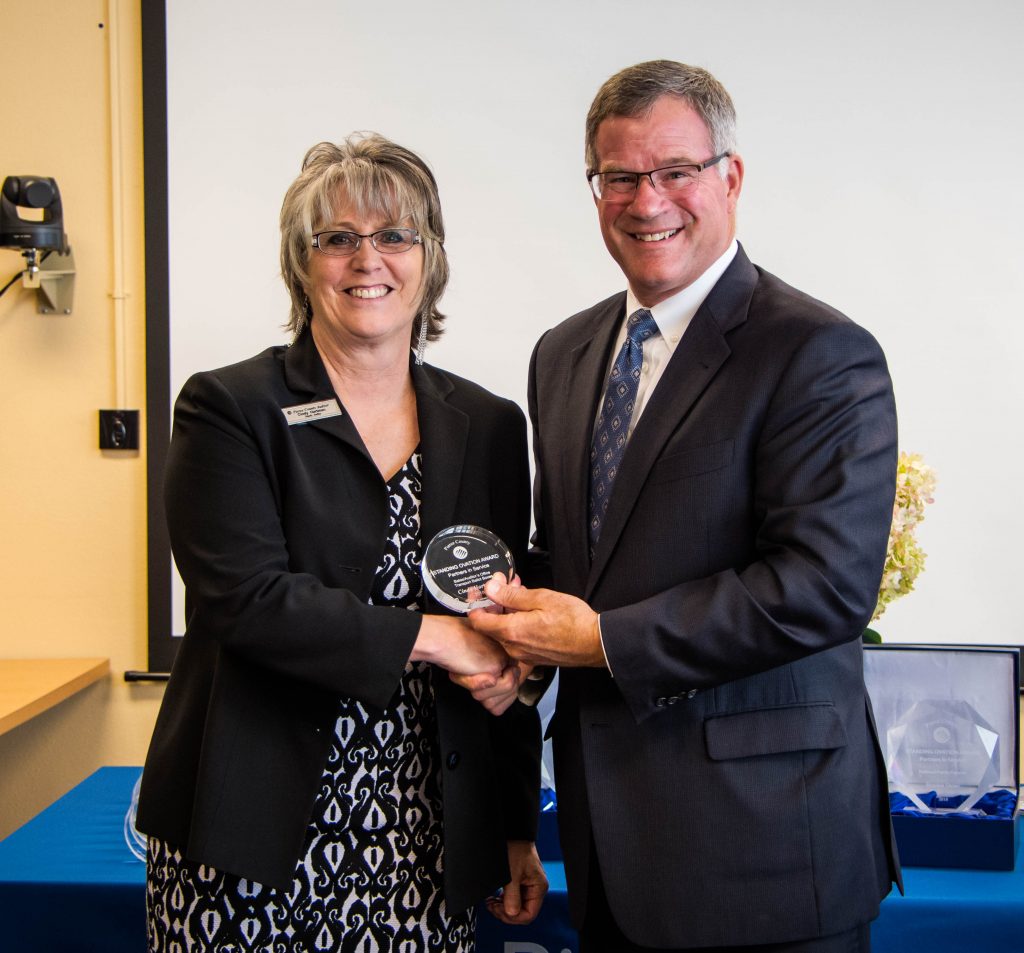 The collaborative team from the Auditor's office put "partnership" into practice through a creative project with Bates Technical College.
The challenge: create a low-cost, customized solution to speed up the process to collect voter ballots at drop-off points.
The team tapped our local college to decrease time, increase safety, lower operating cost and improve the chain of custody during transport. That's what I call a "4-win!"
Many thanks and kudos to Cindy Hartman, Mike Rooney and Damon Townsend for reaching out and providing the college students a great real-world challenge – and for providing our voters with an efficient new process that builds trust and confidence in our voting system.
---
Partners in Service (Individual)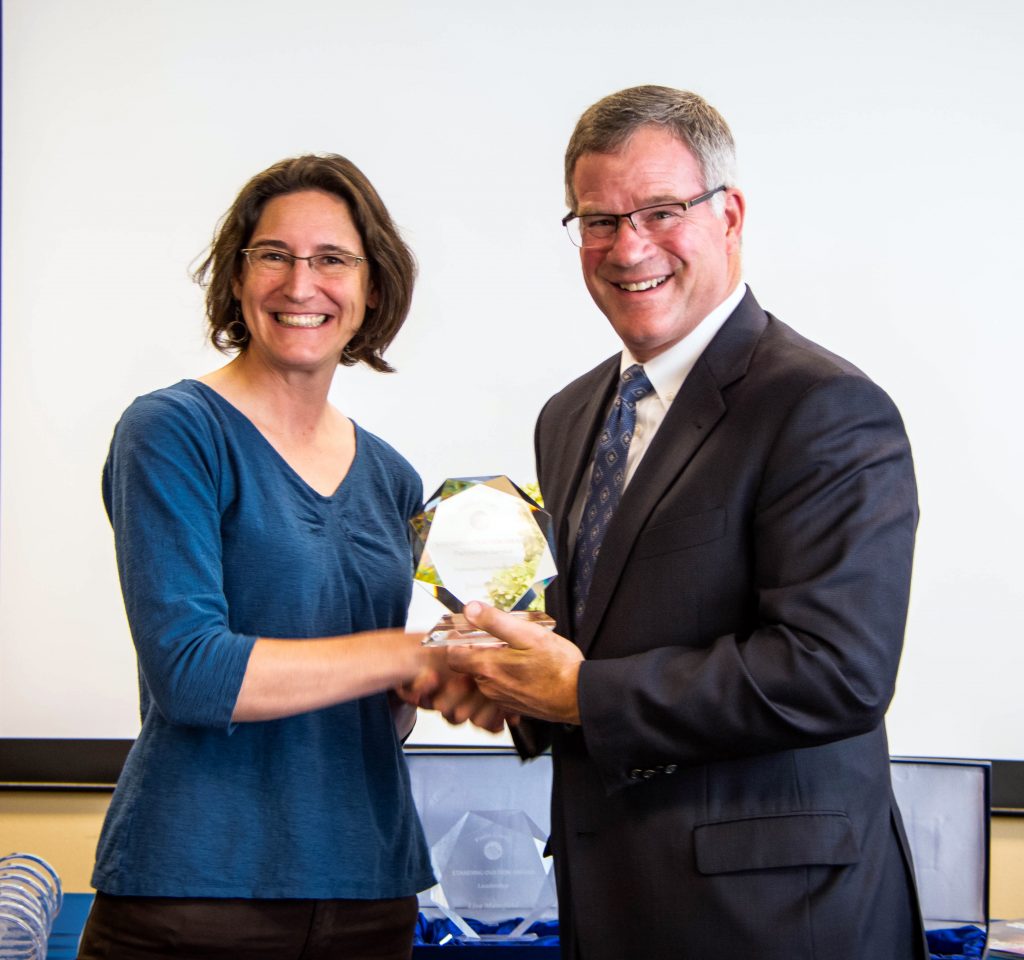 Part of what makes Pierce County a great place to live, work and raise a family are the amazing places we have around us to play. But, sadly, one of our parks looked more like an abandoned lot than a place to recreate.
Jessica Stone in Parks and Recreation had a vision and was on a mission to transform Parkland Prairie and she succeeded in a magnificent way!
Not only did the unmaintained 5-acre property come back to life but Jessica also provided a place for Parkland residents to rally around a community project.
She recruited many others to her quest – forming the Parkland Prairie Advisory Group and brought partners like the Pierce County Beekeepers, Surface Water Management teams and Parks staff along for the fun.
The old prairie, filled with scotch broom, invasive blackberries and garbage, has gotten an incredible makeover!  Thanks to 265 volunteers, 500 hours of service and grant money, Parkland residents can relax near Clover Creek, walk the new half-mile accessible trail and learn about prairie plants and pollinator habitat.
Way to go, Jessica!
Visit the Parkland Prairie project webpage.
---
Leadership (Individual)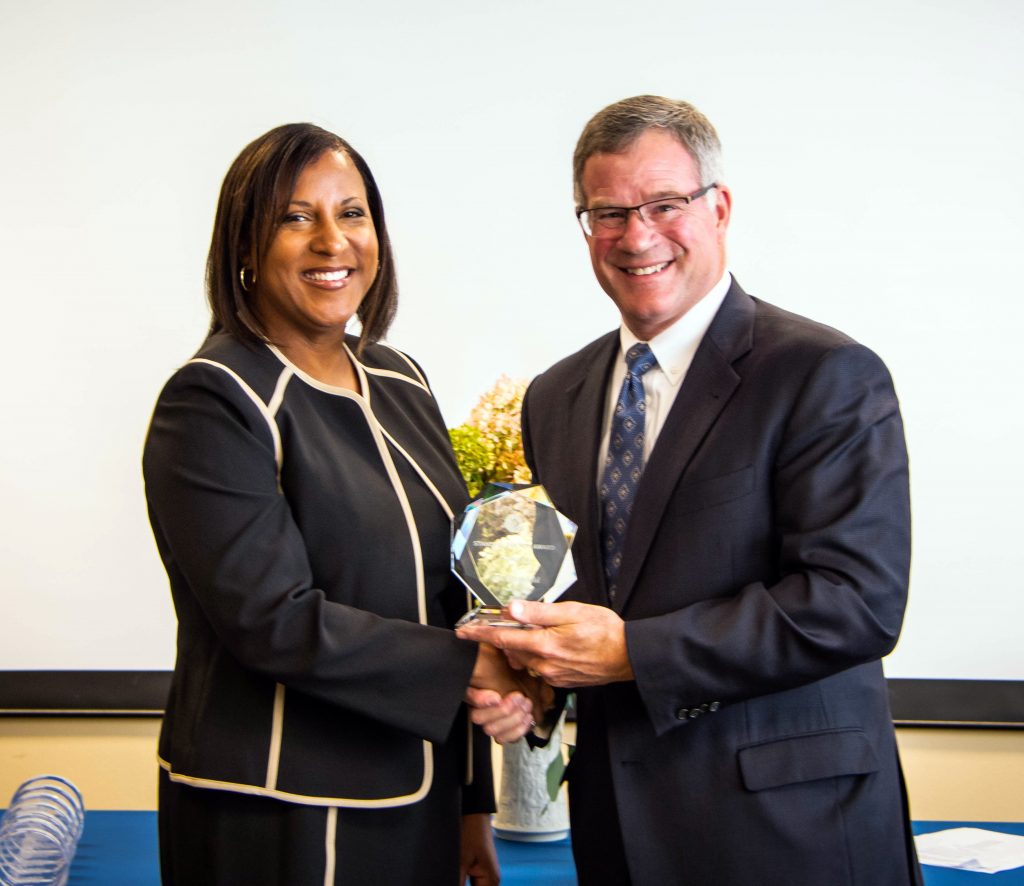 Lisa Mansfield in the Department of Assigned Council has made it her life's work to care for the most vulnerable and fragile in our community – infants and toddlers who have been removed from their parents.
She has been a tireless advocate for and champion of our innovative Baby Court. While doing so, she took what can be a highly contentious court process and turned it into a collaborative effort focused on the best for the baby – and often helping keep the family together.
The result? Better AND quicker outcomes! The average time for resolution was 24 months. Family reunification was reduced to 9.8 months and adoption at 17 months. In a young child's life, the weeks and months can make a huge difference between a healthy transition as opposed to a future fraught with problems.
If you've had the privilege of meeting Lisa in person, you know that her character and personality are ideally suited for this important and sensitive work. Her leadership style, treats everyone involved with respect, dignity and care. She is an impressive leader and we are fortunate to have her with us at Pierce County.
---
Innovation (Team)

The final Standing Ovation Award goes to an amazing collaboration between Finance and Planning and Public Works who created the Public Nuisance Portal.
Their work leveraged technology to make reporting a complaint easier for our residents, allows them to check the status on-demand, make the entire process more transparent and save time for our code enforcement team (another 4 "wins").
Before the portal launched, the public had no way to submit complaints online or check the status of their complaint. As a result, Public Works employees spent a great deal of time answering calls, manually entering information and responding to complaints.
Today, entering complaints when from up to 90 days down to 1-2! Incredible!
Two of the hallmarks of public service are accountability and customer service. Thanks to the people listed below, our residents have even more reason to have confidence in our work serving them.
Congratulations to Andy Randall, Larry Osborn, Raymond Odem, Robin Tuttle, Sean Grady, Sean O'Donnell and Tony Trinidad in Finance! And, hooray for Ray Clark, Danica Williams, Ingela Gordon, Kristina LeFae, Robbyn Young, Samantha Mitchell and Yvonne Reed of Planning and Public Works!
Visit the Public Nuisance Portal.
---
I hope you will join us on the evening of October 24th for the Employee Incentive & Recognition Reception as we recognize the Standing Ovation Award winners along with those celebrating milestone work anniversaries.
Who knows, you might even win a raffle and go home with a great basket! This year's raffle fundraiser proceeds will benefit the National Alliance on Mental Illness (NAMI) of Pierce County. You can purchase your ticket for the banquet here.
Before I close, I want to invite you to check out the 2019 budget I submitted to the Council this week. You can dive into it here.
Our budget decisions and priorities align with our strategic work to create an entrepreneurial climate, foster vibrant communities and operate an effective and efficient government.
I had the privilege of standing at the podium in Council chambers but the budget was the result of many people spending countless hours preparing it. I'd like to especially thank Gary Robinson, Jim Dickman and Julie Demuth in Finance, and Dan Grimm, Brian Hardtke and Chris Cooley in the Executive's office.
I'll bet they are hoping that they only get to do this enormous project every other year in the future!
Thanks for reading,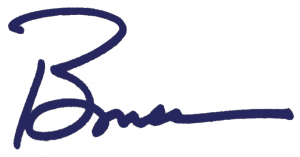 Bruce