College students fill the campus square. And voter registration is in the air!
It's no accident that National Voter Registration Day was September 26th, 2018, as we prepare for the November General Election.
The Auditor's Office had a blast at Rock the Vote at PLU and at civic events across Pierce County.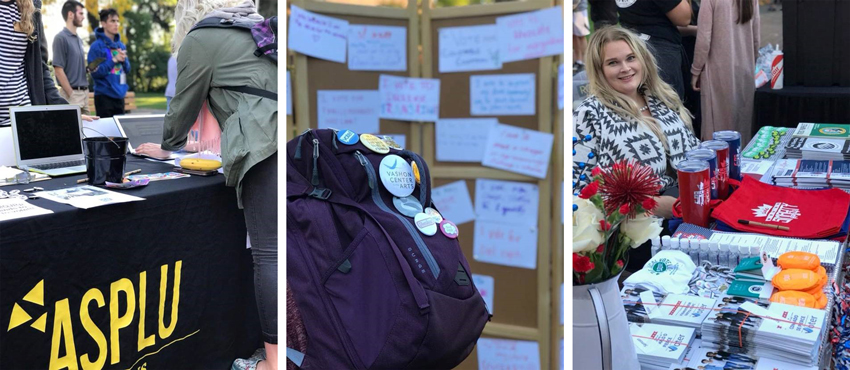 Washington State's voter registration rate is quite healthy, regularly in the top quartile of the nation.  We've registered roughly 83% of the eligible population! That leaves just 17% eligible adults to register. The low hanging fruit has been harvested.  We're going to need a ladder to reach the rest!
To that end, the 2018 Washington State legislature passed several registration laws that will take effect in 2019. Your Pierce County Elections Division is busily getting ready for implementation.
Automatic Registration
16 and 17-Year Old Preregistration
Same Day Registration.
Automatic registration refers to the enrollment of people who aren't on the voter rolls but have obtained:
An enhanced driver's license or commercial driver's license.
Social services that verify citizenship.
Health insurance through the state health exchange.
These transactions require proof of citizenship and Washington State residence, key requirements. So, upon enrollment, the Secretary of State's Office will send opt-out notifications to prospective registrants and allow 60-days to opt-out.
Sixteen and 17-year old preregistration is an expansion of Motor Voter.  When teens apply for their driver's license or ID card, they'll be asked if they'd like to be registered to vote.
Teens would not be sent ballots or allowed to vote until they are 18-years old.
Pre-registration information would be exempt from public disclosure requirements.
Same-day registration does exactly what it says.  Eligible unregistered citizens can visit the Auditor's Office on Election Day, register to vote, and then cast a ballot.
Inspired about your own election participation? Help our team by keeping your voter records up-to-date.  Report a change in address or your name change to: PCElections@PierceCountyWa.gov or call 253-798-VOTE.
Julie Anderson, Auditor