The month of October is National Disability Employment Awareness Month.  You may not have heard of that recognition before, but it has been celebrated for 70 years!
Dictionary.com defines the word "ability" as: "competence in an activity or occupation because of one's skill, training, or other qualification."  You'll notice there was no mention made of one's physical mobility or sensory capability.
As you are likely aware, we have made Diversity, Equity and Inclusion (DEI) a priority at Pierce County.  This week's blog focuses on the inclusive part of that initiative.
Being an inclusive employer means people get to belong and contribute – regardless of physical capability or perceived limitation. Having a more inclusive work environment gives us the opportunity to benefit from the contributions of all of us. Having said that, sometimes that requires us to make a reasonable accommodation or adjustment.
I'd like to introduce you to an example here at the County.  Hongda Sao works in Human Services as part of the Aging and Disabilities Resources team. As he readily admits, his colleagues didn't quite know how to interact with him at first, given his limited sight.
I'll let him tell you in this video:
My thanks to Hongda for teaching all of us that being inclusive might mean making some shifts in how we work or the equipment we need, but those small actions mean a world of difference to people who make valuable contributions to the work we do to serve Pierce County.
This topic is very personal to me.
My brother-in-law lost his hearing due to a bout of meningitis as a baby.  Our relationship goes back to when we were very young – turning over rocks on a local beach looking for crabs.  I have watched him grow into an amazing man, father, and gifted educator.  "Talking" with Andy takes a little more work – for both of us.  It generally involves equal parts of sign-language, charades, lip-reading, and occasionally a note pad. We have shared about parenting, hobbies, retirement, exercise, faith, relationships, and investments – all of life's issues.  He has helped me grow in my understanding and appreciation of those in our community with disabilities – or different abilities.  Despite his deafness – and possibly because of it – Andy is far more perceptive of people and much funnier than I ever have been.
Additionally, I served for 12 years on the Board of the Tacoma Goodwill – and my mother served on the Board before me.  I saw the power of work in people with a wide range of disabilities.  When our community is open to the contributions of others, who have different physical, sensory, or developmental abilities, it helps provide them with dignity and helps strengthen our humanity.
Along the way, I've seen many examples of people who overcame incredible challenges to find ways to significantly contribute.  One memory stands out powerfully.  At a national conference, I met a young woman who was born without arms or legs.  Yet, she went on to learn to type, and took public transit to work every day – in Minneapolis – think snow and ice!  When I met her, she was studying for her bachelor's degree in social work.  But she also had recently been to the White House and had the chance to meet the president.  While most of us would have been awestruck in the meeting, she had the presence of mind to share how working and earning a wage was jeopardizing some of the critical services she was receiving.  Her story and example left me humbled and challenged, and encouraged me to make the best possible use of the abilities I had been given.
Speaking of national impact, this morning I had the chance to thank Quentin Brown, in Fleet Services, for his work that makes our entire country safer – yes, not just the county, but the country!
One of our deputies brought her Tahoe patrol vehicle in to Quentin with a complaint about a significant brake problem.  Quentin was able to determine there was a critical failure of a part in the power braking system.  Picture yourself in a big heavy Tahoe, on the winding rural roads of Pierce County, with deep drainage ditches on each side, traveling with lights and sirens to an emergency call – and suddenly, your brakes aren't working!  I am so thankful that Quentin and the Fleet team were able to repair the brake systems on our Sheriff's fleet of Tahoes before anyone was hurt.  But it doesn't stop there, based on the work Quentin did, a safety recall was issued for 4 million affected vehicles throughout the country!  Just another example of Pierce County leading the way!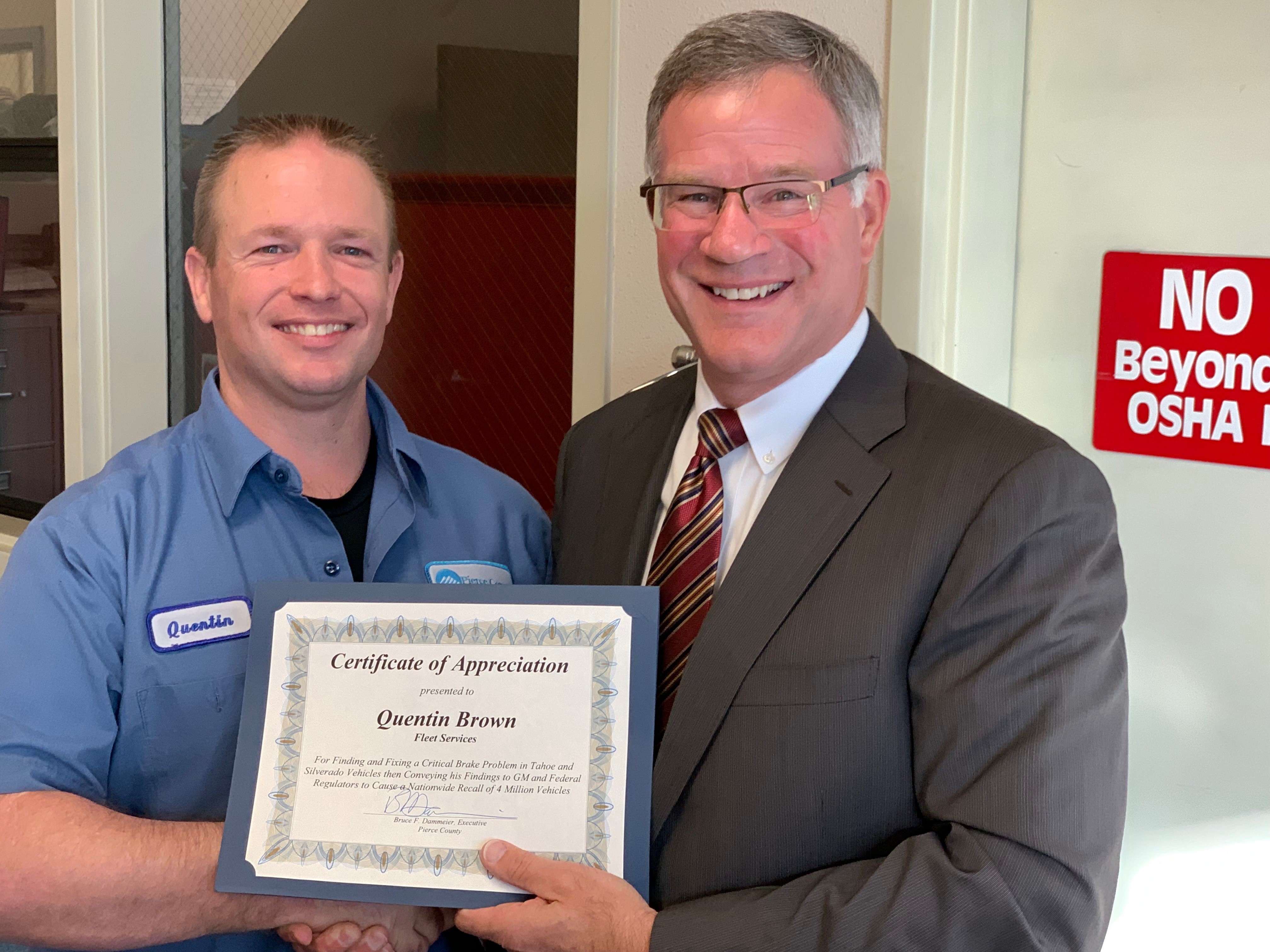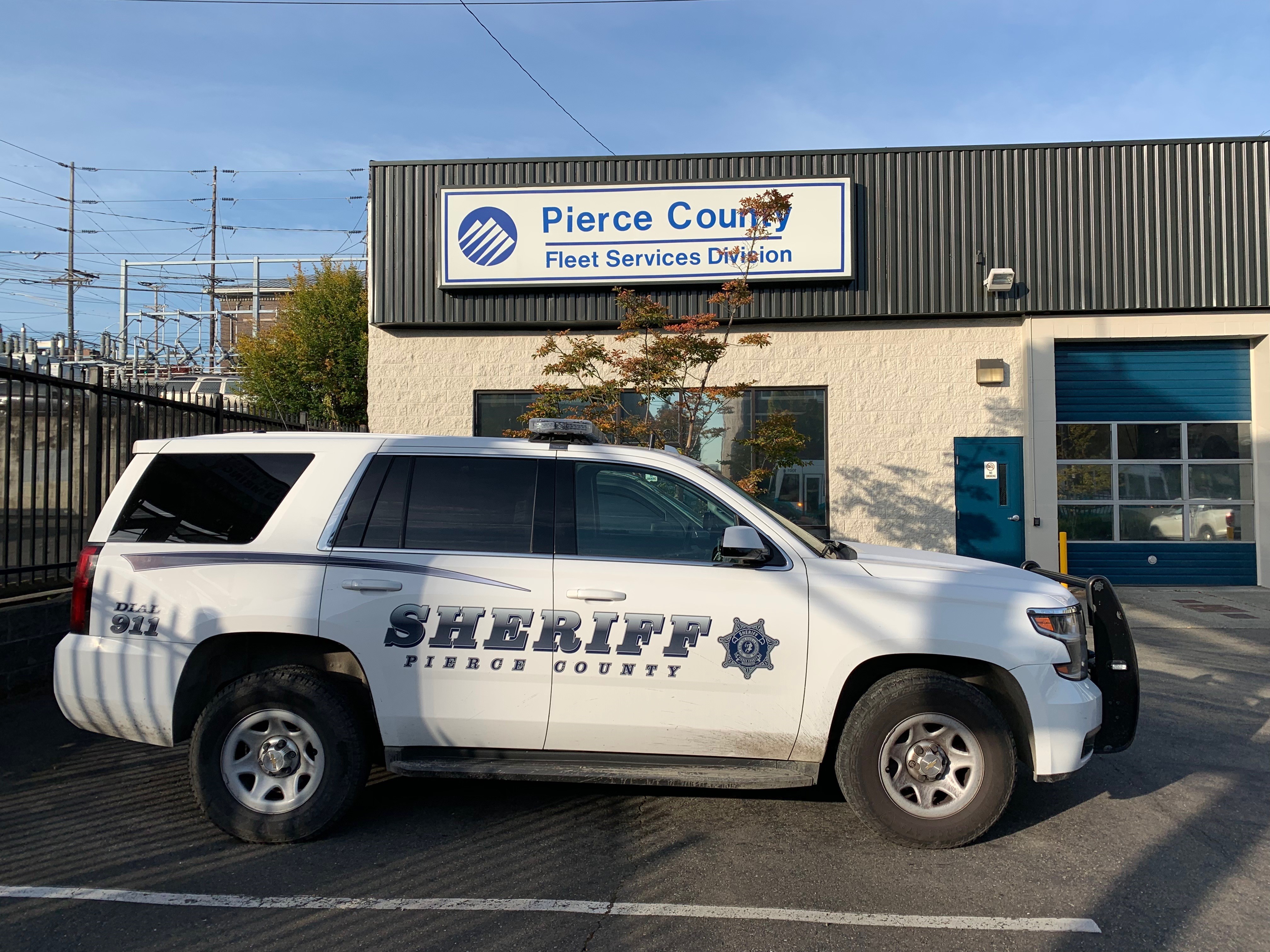 Before I close, if you haven't already done so, please respond to the Internal Services Survey sent out to you on behalf of four of our internal service providers: Communications, Facilities Management, Finance and Human Resources.  Your feedback helps them continually improve the support they provide you!  The link to the survey is here.
Thanks, and have a great fall weekend,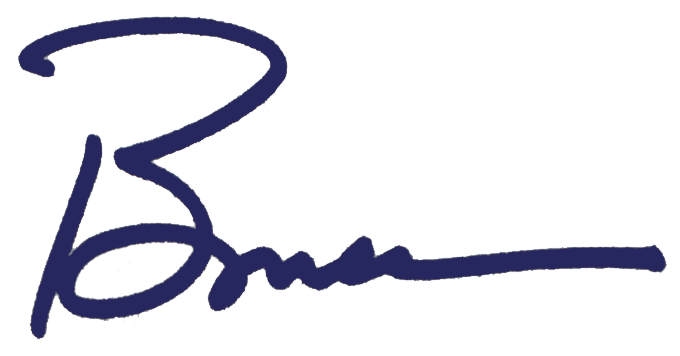 Bruce