Since 2017 we've had a strategic plan that identified our mission, vision, values, and several key objectives designed to address the needs of our residents.
Now that we've had the benefit of more than four years of seeing the plan in action, I'm pleased to share an updated version of that plan with you via this blog.
For the last several weeks, we've had a team of leaders working on plan refinements that better reflect the current state of the county.
The first thing you'll notice in the updated plan is a revised vision statement: "A place people are proud to call home." Not only is the updated vision statement quite a bit shorter, it also leaves room for people to interpret it in a way that speaks to them.  What makes you proud to call Pierce County home?  For one person it may be the natural beauty of our surroundings.  For another it may be a great school.  And, for another, it could be a warm neighborhood feel.  The bottom line of the vision is that if you are proud of where you live then you will invest the time, energy, and other resources to help take care of it and make it even better.
The second change is to our mission statement.  The previous mission was: "Through collaboration and partnership, Pierce County delivers efficient, innovative and reliable public services to enhance our quality of life."  Phew – that's a mouthful!  And, yes, we are still doing this, but we wanted to simplify it.  So, our new mission is to "build strong communities."  Direct and to the point, I'd say.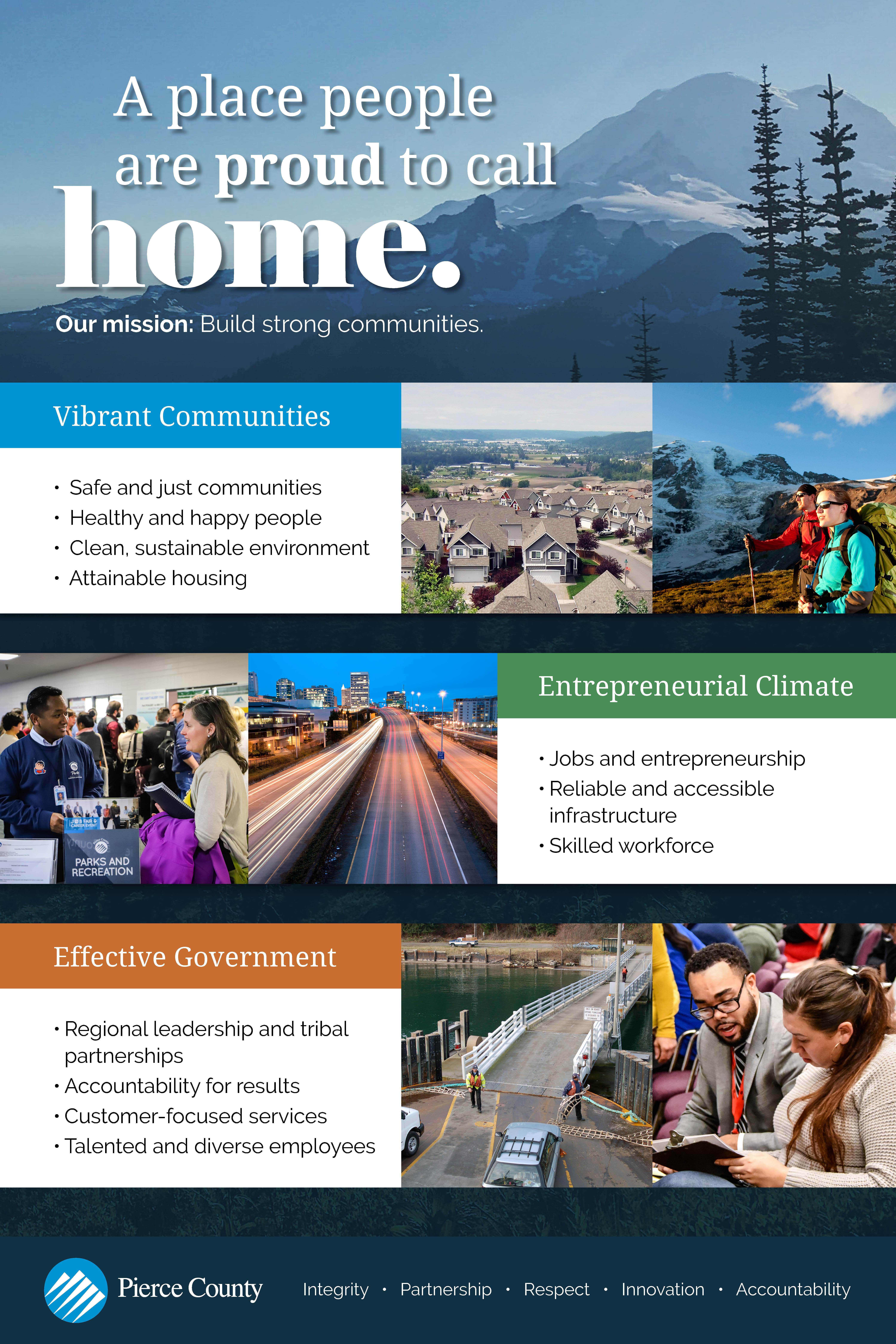 You'll start seeing the updated poster in workspaces and conference rooms in the days ahead but in the meantime, I'll walk you through the high points.
Our three primary categories remain Vibrant Communities, Entrepreneurial Climate and Effective Government.  However, we made a few tweaks to the list of "Tier 1" objectives under each category.
In the Vibrant Communities category, we have the following key objectives:
Safe and just communities
Healthy and happy people
Clean, sustainable environment
Attainable housing
If we are successful in these objectives we will certainly add to the strength of our communities.  As in our previous plan, we will evaluate our progress through both specific measurements we've outlined and "community indicators," or those measures that provide a relevant glimpse but are not fully within the County's control.
Entrepreneurial Climate includes those objectives and initiatives meant to improve the economic strength of our region, including:
Jobs and entrepreneurship
Reliable and accessible infrastructure
Skilled workforce
As you've heard me say before, our goal is to reduce the numbers of County residents going north for career wage jobs by providing great opportunities closer to home. One bright spot in the pandemic was the rise of teleworking, which will help county residents lessen their commute and more fully participate in everything our region offers.
Essentially, to create more local career wage jobs, we want to attract new businesses and help existing businesses expand right here in Pierce County.
The last category is Effective Government.  In short, this category commits to efficiently and effectively delivering services for our residents.
Regional leadership and tribal partnerships
Accountability for results
Customer-focused services
Talented and diverse employees
The next step in updating the strategic plan is for our department directors to identify the initiatives in their areas of responsibility that will help accomplish our key objectives.  We call those "Tier 2" objectives.  They work to support the overarching priorities.  As we develop the biennial budget, I am asking each department director how their budget proposals and workplans will support our key Tier 1 objectives.
I'm pleased with how the plan has been updated and believe it will help us move forward from a very challenging period. I'm grateful for the many people from across the County who contributed to the process.  The revised plan reflects the primary goals of the Council and incorporates feedback from our separately elected officials, so I'm confident we have a strong path to a brighter future.
As the environment in which we work is very dynamic, we still consider the plan a work in progress and subject to further refinements.  With that in mind, what would you add, delete or say differently?  Did we miss a key objective?  I invite you to let me know what you think.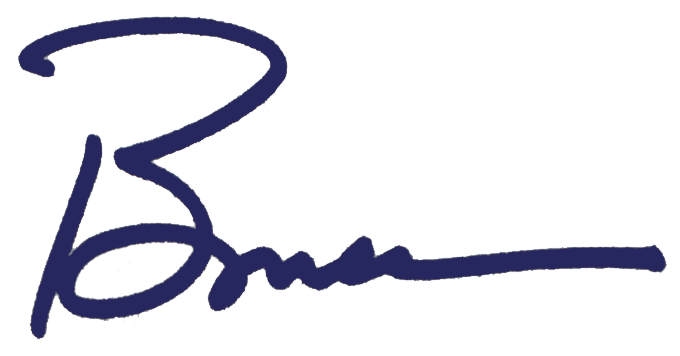 Bruce