The iconic naturalist John Muir once famously said, "The mountains are calling, and I must go." Those of us blessed to live in this region can appreciate Muir's sentiment.  We look at Mt. Rainier and the Cascades each day (when the clouds allow), and many of us answer the call to connect with the grandeur of our environment – hiking, backpacking, snow shoeing, and skiing.  Looking at nature from afar is great – but being in it is awesome!
This week I reflected on connecting as part of the groundbreaking for a new pedestrian bridge being built across the White River.  This new bridge will extend our amazing Foothills Trail from Buckley to Enumclaw.  When finished, the bridge will connect two cities, two counties, two communities – and it took the work of two Parks departments. That's a lot of connections!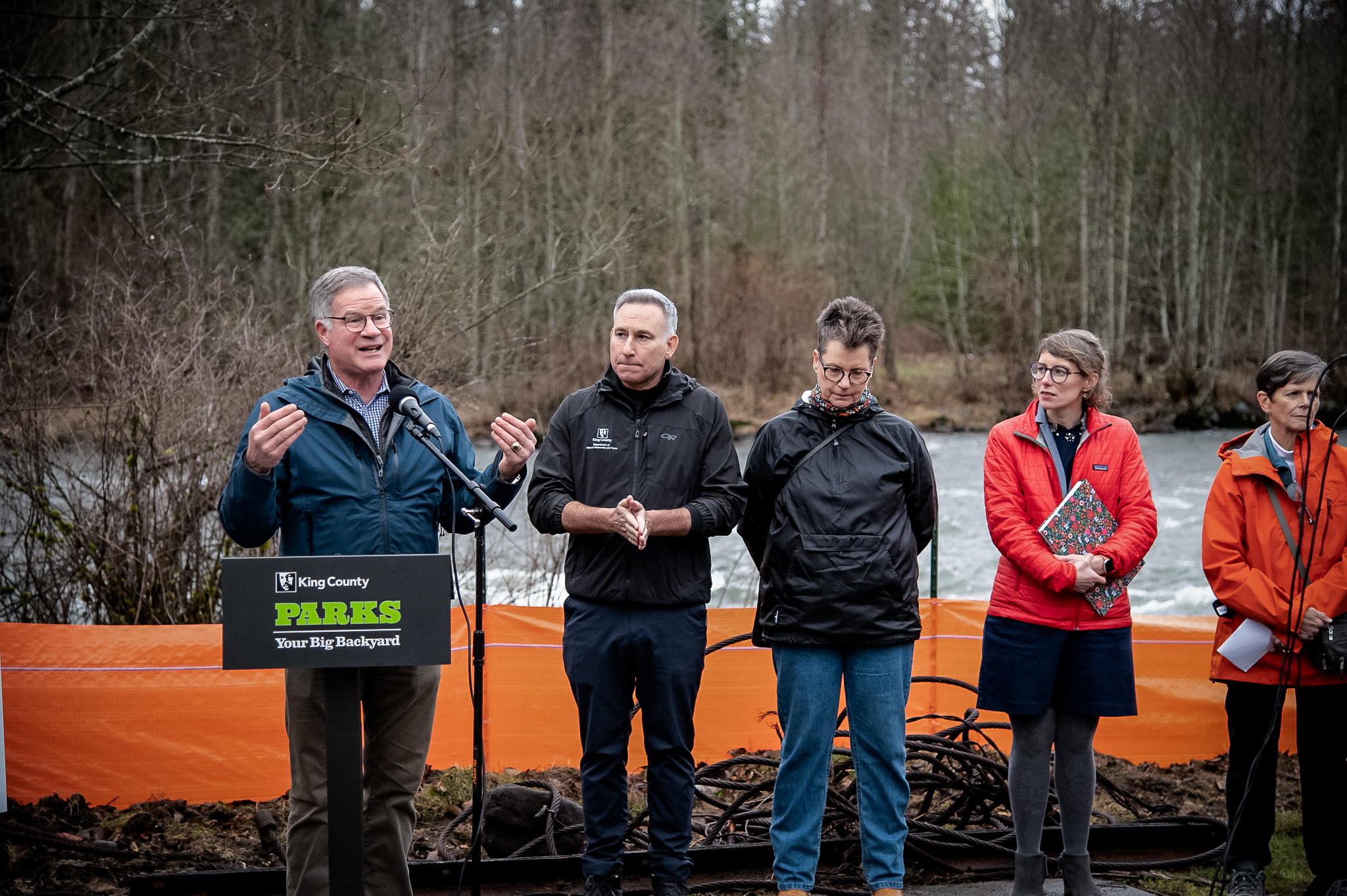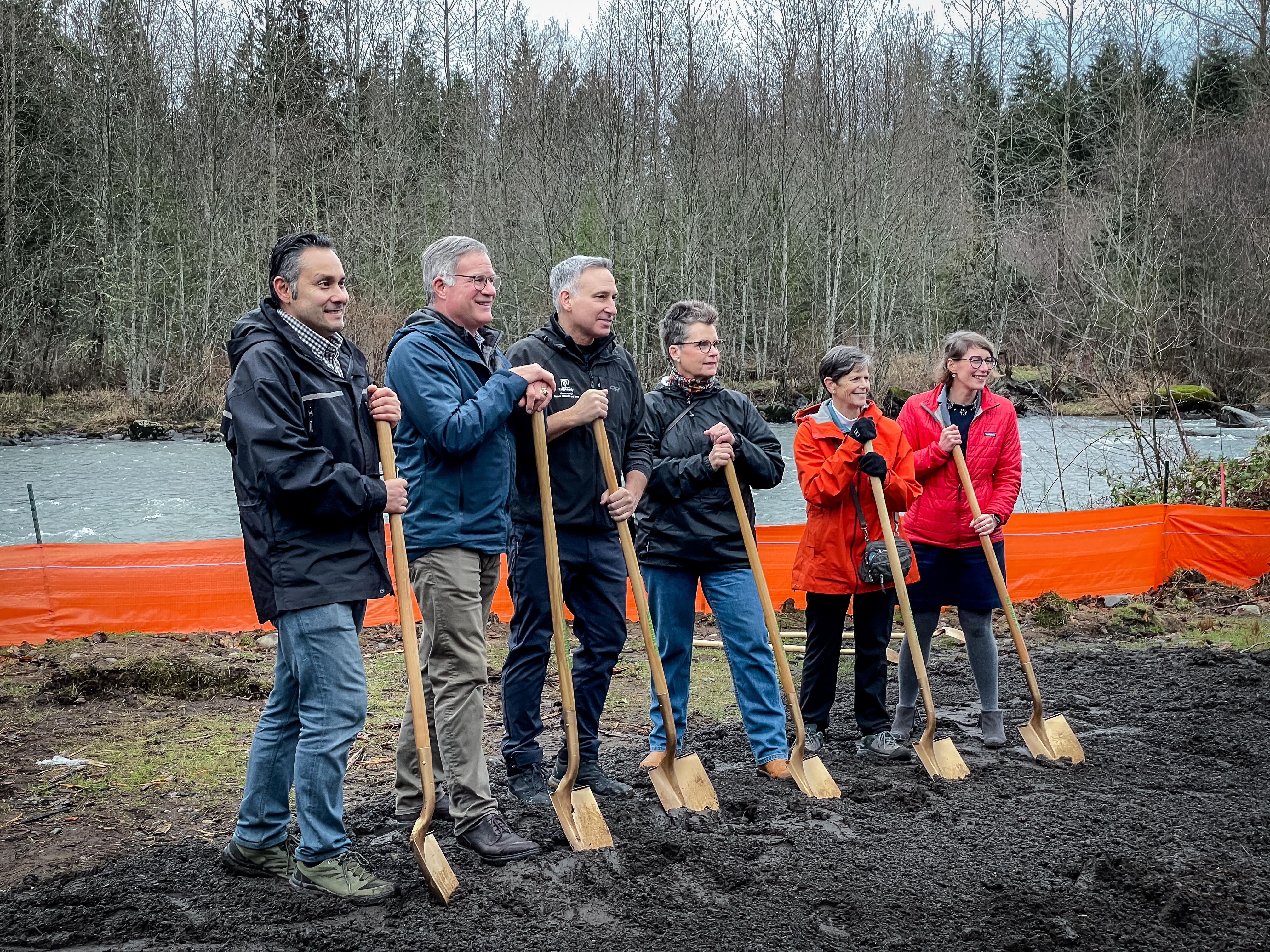 We learned many lessons during the pandemic and one of the most powerful was the importance of connection.  We saw how devastating isolation is to people who longed for in-person connection.  Our trails in Pierce County saw record use as our residents sought to connect with nature and promote their health. And our County colleagues played an important role in connecting our residents with sorely needed services and supports.
Five years ago, we celebrated the Foothills Trail extension from South Prairie to Buckley – an effort that took over 10 years of work by our Parks Team.  Next summer, we will have another celebration when this new bridge is complete – and it took over 15 years of partnership to get us to this point!  This teamwork by the Pierce County and King County Parks Departments – and the vision of the Foothills Rails to Trails Coalition – will give many walkers, runners, bikers, and strollers a chance to make new connections.  I look forward to riding my bike to the ribbon cutting when the bridge opens and visiting Enumclaw!
Before I close, I want to add a postscript to last week's blog. As you may remember, I mentioned that I would be attending Tacoma's "And We Rise" celebration of Dr. Martin Luther King, Jr.  It was a beautiful and inspiring gathering, filled with speakers, artists, and a choir.  But the highlight for me was the remarkable performance by J'Nai Bridges, an internationally acclaimed operatic singer.
Ms. Bridges grew up in Pierce County and has set the opera world on fire with her incredible talent and powerful presence. Her story is especially meaningful as an African American singer in a mostly white opera world.  She makes her Seattle debut this weekend in Samson et Delilah with the Seattle Opera.  Audiences are in for a real treat as her talent has been celebrated across the world.
I'll wrap this week's blog with a gift for you: a video of J'Nai's performance of "He's Got the Whole World in His Hands" at the MLK Day in Tacoma this week. Enjoy!
Thanks for reading,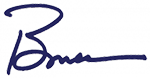 Bruce