While it wasn't the first time I had visited Baby Court, the case I watched unfold in the courtroom last week had a strong impact on me.
For those not familiar with the program, Baby Court is an innovative approach to working as a community to reunite babies who have been removed from a  with a parent or family member.  Mostly, it involves the parent re-taking control of their lives, and frequently requires breaking the grip of addiction.
Thanks to Judge Hickman, Lisa Mansfield in the Department of Assigned Counsel, Sally Mednansky of Juvenile Court and many others, Baby Court in Pierce County has received national recognition and acclaim for the critical difference it is making in the lives of our youngest residents – and their families. It also happens to be the only court of its kind in the entire state of Washington.
The case in front of Judge Hickman involved a mother who had been addicted to heroin and had suffered an overdose.  I understand she had essentially been dead for three days but miraculously recovered. Fast forward to her court appearance where she was taking steps to get her life together and reunite with her baby.
As she talked about the journey she has been on, emotions ran high and there were few dry eyes in the courtroom. To be honest, it was difficult to watch at times.  Because of her overdose, she had endured 8 surgeries, including ones to amputate most of her left leg – a terrible sacrifice to addiction.  However, as she sat in her wheelchair, her determination and courage were obvious to everyone in attendance.  She wanted a new life apart from drugs and with her young son.
It was amazing to see Judge Hickman come off the bench and sit face to face with this young woman.  He expressed his confidence in her, demonstrating tremendous compassion and care.
An entire team of supportive professionals is behind her and I'm thankful that she is taking advantage of the opportunity to get another chance at a healthy, happy life with her child.  I'm certainly rooting for her!
Our vision at the county is to create and sustain a vibrant community where people choose to live, work and raise a family.  I take all three parts of that vision very seriously and am grateful to those in our community who focus on Pierce County's young people.
This focus was on display this morning at the Fifth Annual Symposium On Our Youngest Citizens. It was hosted by the Children's Museum and featured a challenge to create a "child-centered community."  It's thought provoking to consider how we might make decisions and design new initiatives with children at the center.  I joined a panel discussion with Mayor Woodards and left inspired to find ways Pierce County can better serve our youth.  What would you do to make our community more child-centered?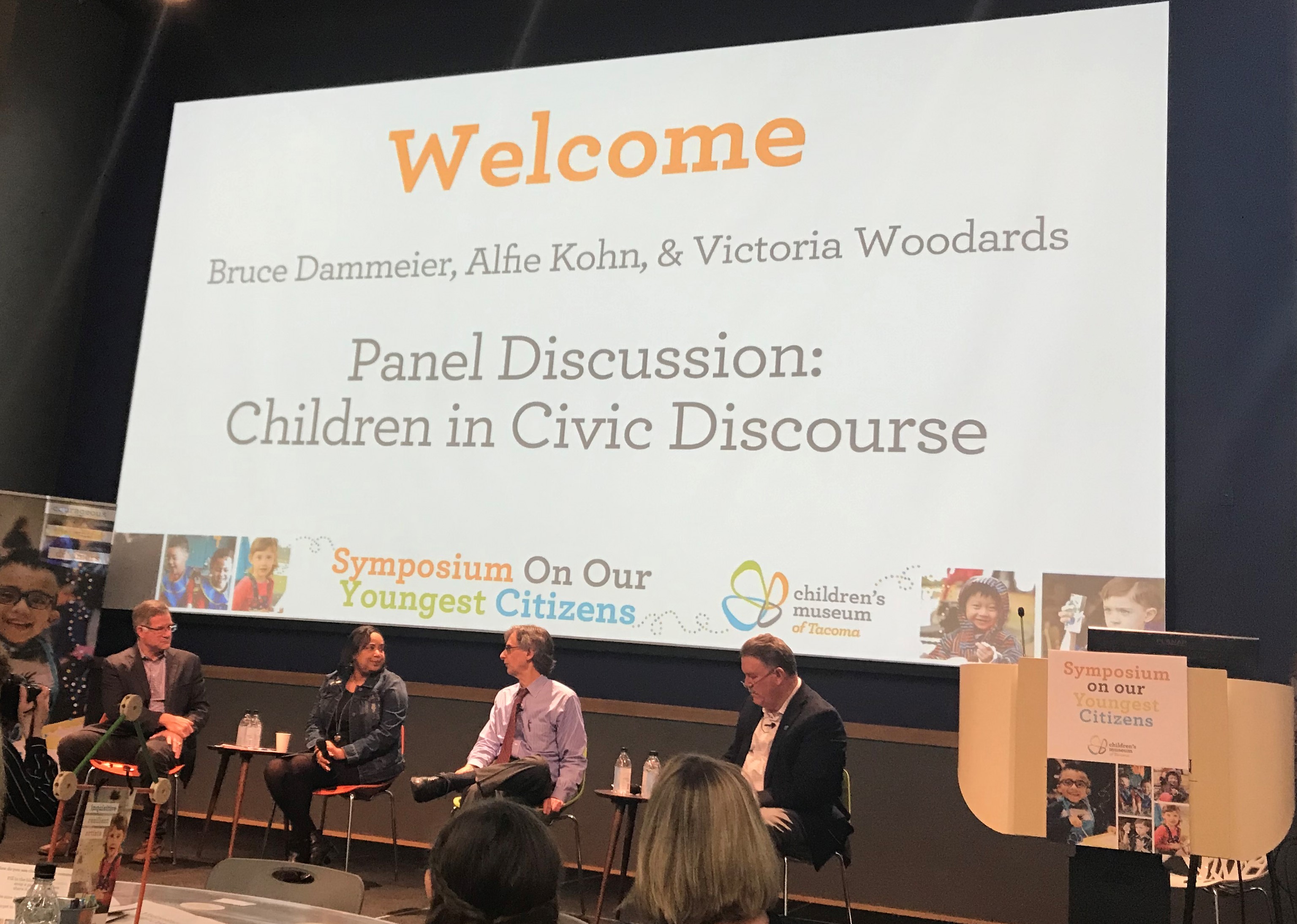 ————————————————————————
Last Saturday, nearly 900 Pierce County residents attended an open house on proposed updates to the Frederickson, Mid-County, Parkland-Spanaway-Midland and South Hill community plans – often called our Centers & Corridors Plan.
Community plans provide direction on how growth and development will be handled. The plans cover topics such as zoning, transportation, the look and feel of the community, and access to services and amenities.
My thanks to the thirty-five PPW representatives who were on hand to speak with residents about the proposed updates and address concerns such as growth and traffic.
The work to update the community plans has been underway since 2016 and will continue throughout this year as the Land Use Advisory Commissions, Planning Commission and Pierce County Council consider the proposed updates.
The open house was a fantastic success and I'm grateful for the employees who gave up part of their weekend to engage with our residents.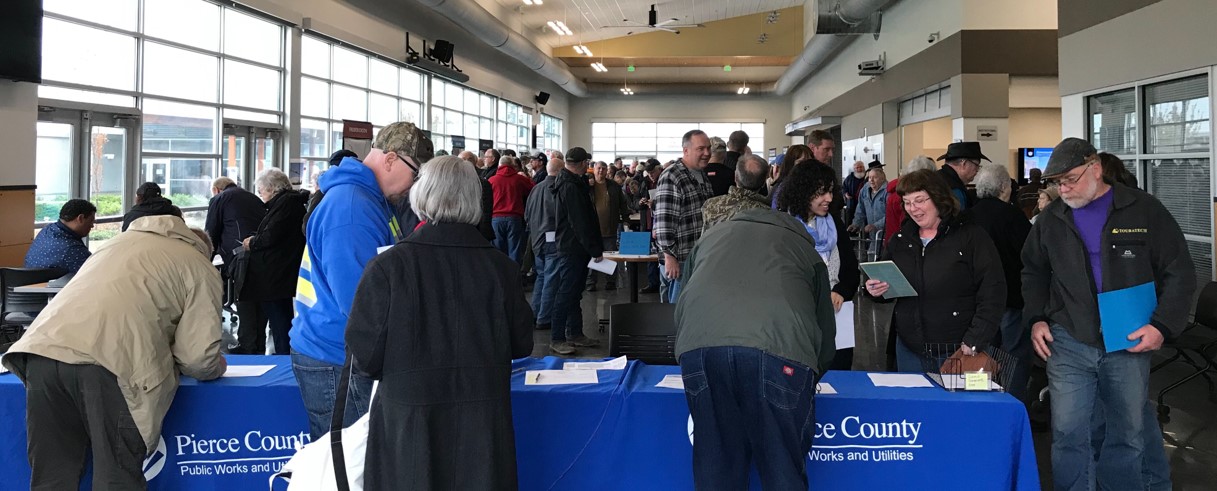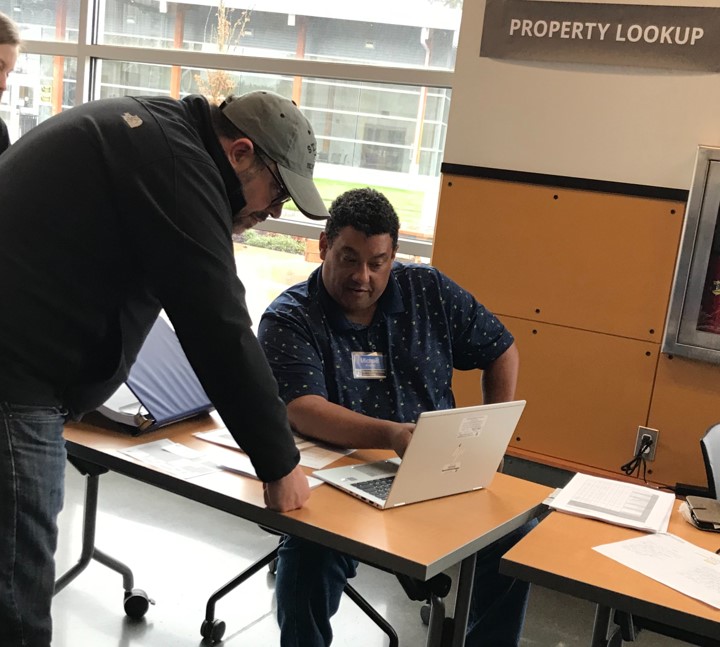 Another interesting thing occurred over the weekend.  In short, the concrete vehicle ramp at the Steilacoom dock "broke" on Saturday night.  More precisely, the weld that holds the ball-joint connecting the ramp to the pontoon gave out.
In case you want to get a closer look at the boat ramp repair, check out the video below:
This weld failure meant that Anderson Island residents couldn't take their cars on the ferry and were only able to walk on and off the boat on Sunday and Monday.  That created issues for island students who travel by bus to school at Steilacoom High School, as well as people who needed their cars to travel to work, medical appointments and other important tasks.
Toby Rickman and folks from PPW sprang into action and had the ramp repaired by Tuesday morning.  My thanks to Chair Richardson and LJ Rohrer for their work to stay in close touch with residents and troubleshoot their needs. They are fantastic advocates for folks in the "Mighty 6th District!"
As we go into this weekend with holy celebrations, I'd like to wish our Jewish colleagues a happy Pesach (Passover) starting tonight and a happy Easter on Sunday for our Christian co-workers.
Thanks for reading,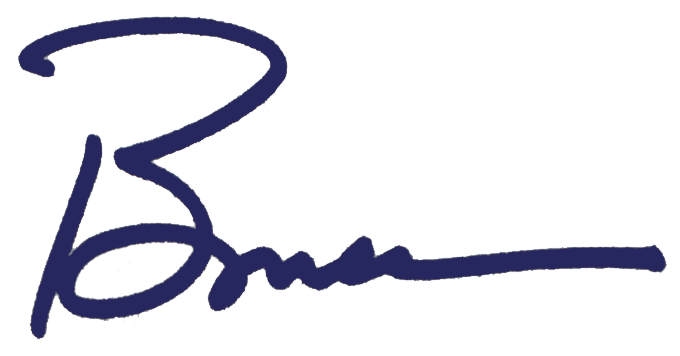 Bruce