For many reasons, thousands of people who live in or travel to Pierce County are either temporarily or permanently unable to transport themselves where they need to go. They may be too young or too old to drive, they may have a mental or physical disability that inhibits their ability to get around, they may live outside of the public transit service area, or the cost of transportation is unaffordable. Whatever the reason, Pierce County believes that transportation services accessible by all is critical for a healthy and independent lifestyle in Pierce County. Beyond the Borders (BTB) was created in 2003 to help close some of these transportation gaps in Pierce County.
When it first started, BTB served areas of Pierce County south of Graham and Spanaway such as Eatonville and Roy where there was no bus service. Later, when Pierce Transit's service area was reduced, BTB expanded its service area to include areas of east Pierce County such as Sumner, Buckley and Orting, to assist people who found themselves without any public transportation options. Currently, BTB provides free rides and connections to Pierce Transit buses for eligible riders who need to travel to work, medical appointments or other essential errands. Eligible riders include seniors 65+, youth aged 12-17, people with disabilities, and people with low incomes.
There are two ways to get rides with BTB, but we will only focus on the first for this blog, which is to hop on one of two Connector bus routes. Riders in east Pierce County can catch the Sumner-Bonney Lake Connector, which makes five stops starting at the Sumner Sounder station and ending at the Walmart in Bonney Lake. The Connector stops at the Fred Meyer, Senior Center, and Gordon Family YMCA in Sumner, and runs every 45 minutes Monday through Friday from 8 a.m. to 4 p.m.

Residents in south Pierce County can access the South Hill-Spanaway Connector, which makes four stops starting in South Hill, passing through Graham, and ending in Spanaway. This route also runs Monday through Friday, but starts at 6:45 a.m. at the Fred Meyer in South Hill and ends at 5:20 p.m. After leaving South Hill, the next stop is at Safeway in Graham. It travels south until it reaches the third stop at Fred Meyer on 224th and ends the route at the Walmart in Spanaway.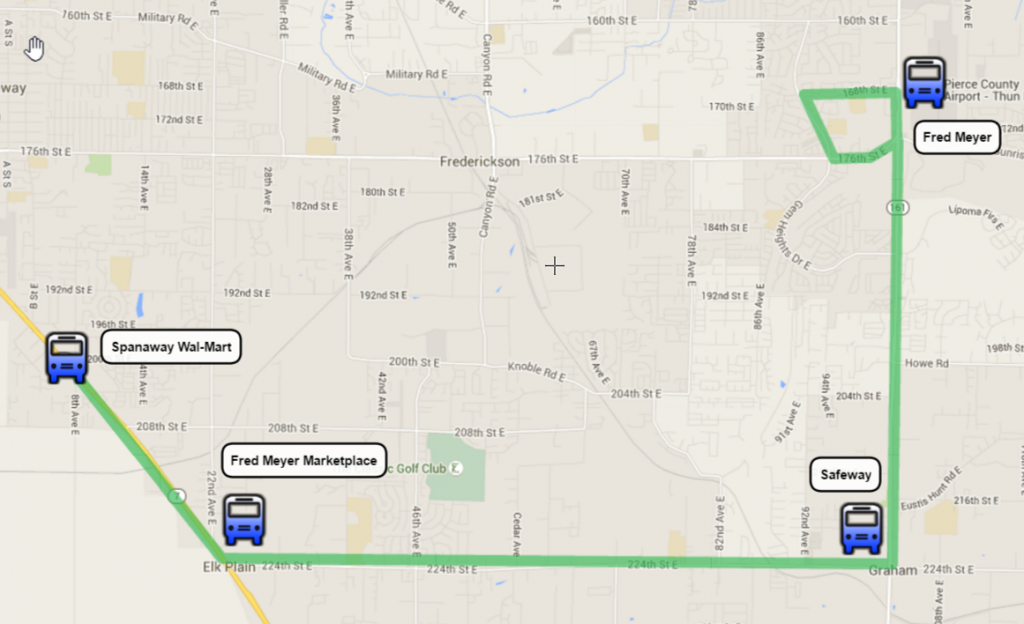 I had the pleasure of riding the Connector on both routes and was able to meet the drivers and some riders. One rider, that I'll call Mike, lives in Graham and has been taking the Connector for years. He lives about half a mile from the route but that is not a problem because if riders live within one mile on either side of the route, the Connector will pick them up or drop them off at their home.
"I take the connector to Walmart in Spanaway and back to South Hill for some errands or to go antiquing, which is my favorite hobby," says Mike. "I appreciate the door-to-door service because I already have to walk far when I use the bus. He (the driver) could have left me at the corner when it's raining but he is really nice and will take me to my house down the road."
Mike lived in Tacoma years ago and had easy access to transportation. He spent some time at Western State Hospital before moving out to a group home in Graham. "I like it out here, but if it weren't for the Connector, I wouldn't be able to get anywhere."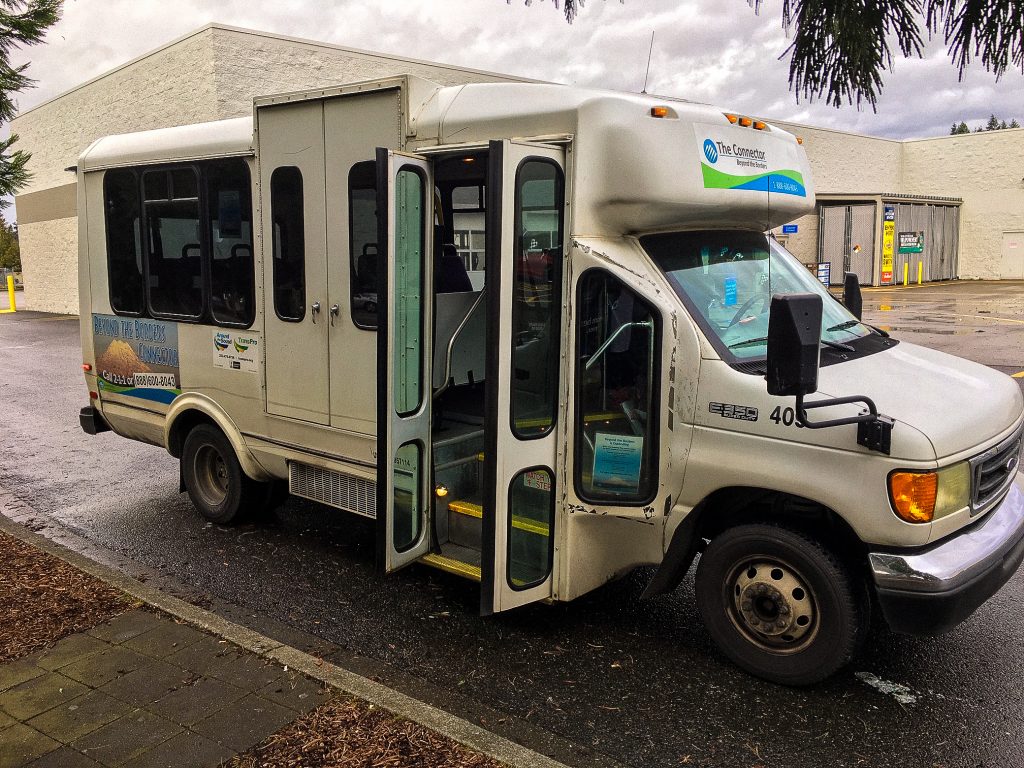 During our route, we picked up a woman who was waiting on the side of the road, but not at a designated stop. She explained to me that she takes the Connector down the road to the Dollar Tree, which is next to one of the stops. "I try to save my food throughout the weekend, so I can get a ride to the grocery store on Monday. Without the Connector, it is a forty-minute walk to the store. I'm getting older and it isn't as easy to do, so I am really thankful I can take this shuttle for free."
If riders don't live near a Connector bus stop they still have options! Riders can make a special transportation request for a pick up or drop off location near the route. Each route has about 25 unique riders who take an average of 250 trips per month!
The Connector buses can seat up to 12 people and can fit two wheelchairs. In order to ride the Connector, you must first register with Beyond the Borders by calling 253-476-4657 or 1-888-600-8043. Once registered, riders can take the Connector as often as they like. For special transportation requests from the route, BTB recommends making a reservation in advance to ensure the driver can accommodate your request.
If you want to see what it's like to ride the Connector, check out the video below. Don't live near a Connector route?  BTB may still be able to help!  For more information about Beyond the Borders and other transportation services visit us online.
Remember, difficult roads often lead to beautiful destinations. Let us help you get there.