My favorite meme right now says something like this, "What a year this last week has been."  I bet you all can agree.  From hour to hour, let alone day to day, we don't know what new challenge or obstacle is going to come our way. But I can tell you that we are leaning in and doing our best.
As I'm sure you are aware, laboratory testing for Coronavirus, also known as COVID-19, is increasing throughout state which means we can test more people faster. GREAT! It also means we will begin to see more COVID-19 cases throughout Pierce County and the region. This is a scary time, and we are spinning like the rest of you. However, this is a great test for us in responding to change. We must be more adaptable and collaborative than ever before.
The Human Services team has been working diligently to get our staff set up to work from a safe place and practice social distancing. About 85% of our staff are working remotely and are still fully operational. We are still serving clients, but in more creative ways. As an additional precautionary measure, and because we are an agency that serves elderly and immune-compromised communities, we have suspended all walk-in services (everything is over the phone or by appointment). The health and safety of our staff and clients is our top priority, so we are offering alternative service options to help some of the most vulnerable in the community.
Here are some other updates on service expansion in our COVID-19 response efforts:
Our Veterans Assistance Program is expanding services to Veterans and their families who have been impacted by COVID-19. We are waiving income requirements and offering support to retain housing, pay for medical services, transportation and more. Veterans who have lost their jobs due to the impact of COVID-19 should come talk to our team, we have solutions and are here to help!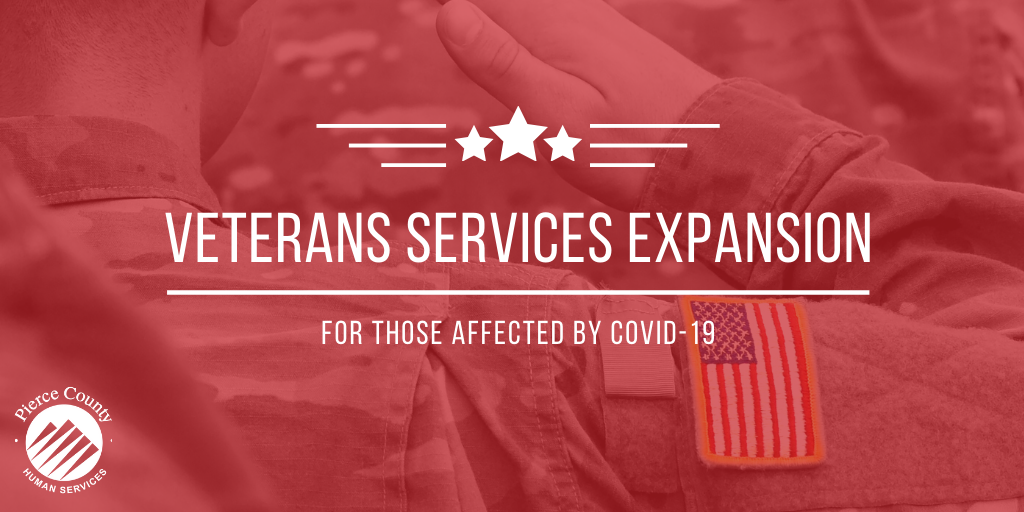 Our Aging and Disability Resources team is partnering with AARP to plan a "Tele-Town Hall" geared toward concerns and questions specific to older adults. Staff will be providing viewers with practical, up-to-date information about the pandemic to older adults. The Tele-Town Hall details are still being worked out, but as soon as it's available you can find it here, along with other videos for older adults, their families and caregivers.
The Department of Commerce has approved $1.6M to support homeless shelters and our unhoused neighbors who need support. Human Services, along with the City of Tacoma, Tacoma-Pierce County Health Department (TPCHD), and other partners are determining how to use the funds based on the needs of providers across the county. The funds can be used for personal protective equipment, staffing support, hygiene capacity like handwashing stations, staff housing resources, additional space to meet social distancing recommendations, and isolation and quarantine facilities.
With schools closing for at least the next 5 weeks, our Early Childhood Education and Assistance Programs (ECEAP) team is getting creative with lessons to support children at home. Teachers are recording virtual lessons that we can send to parents, so children don't miss out on valuable learning. If you have one of our ECEAP kids at home, be prepared for some fun emails coming your way!
Our transportation program, Beyond the Borders, is working on a plan to support our vulnerable seniors with meal and medication deliveries.
I'll also be joining Executive Dammeier at PCTV Sunday night to participate in a COVID-19 Town Hall. Submit your questions and learn more here.  I'll share more details then about the response efforts we are part of.
In an effort to always seek the silver lining, I see this pandemic as a great test of how we respond to change – we are focusing on how to be adaptable, how to collaborate even more with our partners, and how to use Microsoft Teams. ?  And, my guess is that we will come out of this with some grand changes in our society…necessity is the mother of invention, as they say.  I can't wait to see how we evolve for the better.
Finally, a special thank you to our first responders (which also includes our homeless shelter staff!) for their tireless work, and a shout out to the Human Services staff and other social workers whose month of celebration is somewhat overshadowed…we appreciate your role in our community, as well.
Be safe, practice grace, and stay in touch (from a distance).