Last week the Human Services Department completed a peanut butter drive for the Emergency Food Network. The drive started in a simple way: an idea. Ginny Dale, Director of Pierce County Human Resources, mentioned that her department was doing a drive in collaboration with one of the local labor unions. I thought to myself, what a great idea. The timing was great. I had an All Staff meeting shortly after her announcement. I asked myself how could we brand this and have some fun. Operation BYOPB (Bring Your Own Peanut Butter) was born. The Human Services team chuckled and off they went on a one-month peanut butter drive.
People began to get creative. However, when someone offered to make homemade peanut butter cookies for the division who brought in the most peanut butter things went into overdrive. Each division staked out a spot in the hallway. They hung signs that made clear this was their space for their peanut butter. Over the month, I saw jars getting stacked on each other. There was Jif, Skippy, Peter Pan, with peanuts, without peanuts, organic, low salt, non-GMO, etc. My goodness, I thought to myself, how many brands and types of peanut butter could there be. Then, IT hit me!
You see I grew up in a 900 square-foot house with six children. We were poor and I didn't even know it. Both of my parents worked to raise us. My father worked three jobs and my mother worked in a factory. My father was a janitor. He was an immigrant from Palestine so he took jobs that most immigrants did at that time. One of his jobs was a part-time gig cleaning floors in a local restaurant at night. I knew that job well because I helped scrape the gum off floors to make things right. Man! My dad could shine some floors.
One day, I remember my mother having difficulty going to work. She had cancer. Through chemo she kept on doing the best she could. She worked hard, but the days she could work became less and less. She died young at 42 years of age. But one thing I remember most was my father paying bills. He always calculated bills on the back of an envelope. Though he never said a word, I could tell by the look on his face that the struggle was real: a sick wife, less money and eight mouths to feed. This is when I was introduced to "government peanut butter" and powdered milk.
As I reflect on our peanut butter drive I was brought back in time. I ask myself now, at what point did the government peanut butter not become peanut butter. It was thick like paint; not like the stuff we see in stores today. It was extremely oily and ripped the toughest of breads as you spread it. During the summer we would place the jar in the sun on the kitchen window sill. Yep, it sure got hot and oily but you could mix it to a palatable consistency. Most of all it spread without ripping the bread. So, for those who ate the government peanut butter you know the struggle was real. We are now better for it.
I bet you are by now wondering how we did on the drive. We collected 795 jars or 17,002 ounces of peanut butter! Even though the Community Services Team won the bragging rights and the homemade cookies, every person in Human Services is doing something to "spread the peanut butter" in real and tangible ways to the citizens of Pierce County. Remember, the struggle will always be real. But with a good team of creative folks, we can meet the needs of a lot of people. There are more of us that want to help than there are people that need the help! Hats off to the Pierce County Human Services Team!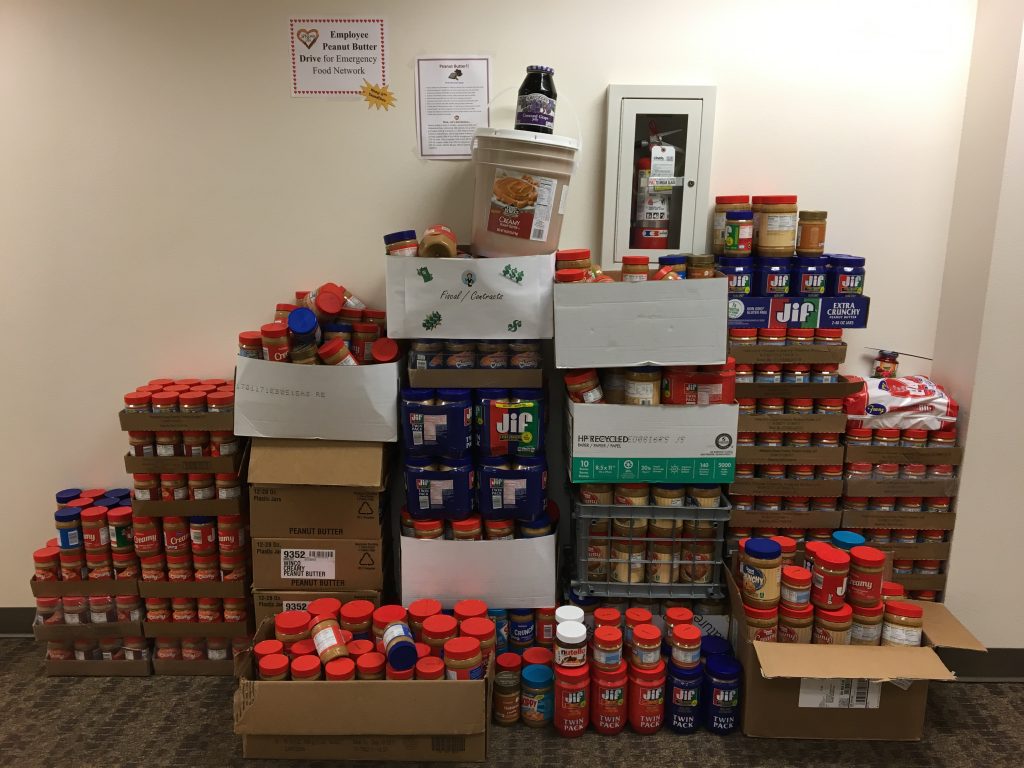 Thanks for reading my blog and remember to