When you think of a caregiver, what image do you see? You might imagine someone dressed in scrubs, most likely a woman, helping an elderly patient get dressed, use a walker, or take medications. Perhaps you see them at the end of their work shift, probably still in their scrubs, hopping on the bus to head home or at the grocery store with their families.
But, what if caregiving was not a calling, or paid employment, or a stepping stone to improving the chances of getting into nursing school?
In America, there are some 40 million people who take care of another adult, and 800,000 of them call Washington State home. Most of the time they are family members of an individual suffering from a disability that hinders their ability to complete normal daily living activities, such as bathing and eating.
According to AARP and the National Alliance for Caregiving, the typical family caregiver is a 49-year-old woman caring for an older relative — but nearly a quarter of caregivers today are millennials and are equally likely to be male or female. About one-third of caregivers have a full-time job, and 25 percent work part time. A third provide more than 21 hours of care per week. Family caregivers are, of course, generally unpaid, but the economic value of their care is estimated at $470 billion a year — roughly the annual American spending on Medicaid.
Caregiving is not an easy job – it entails seeing people in their most vulnerable moments – and can take many forms. But, the reality is that most people caring for family members don't consider themselves caregivers. They are concerned and loving daughters, wives, husbands, partners, sons, grandchildren, nieces, nephews, and friends who handle a wide range of responsibilities from buying groceries and cooking meals, to making doctor appointments and assisting with personal hygiene. In small doses, these jobs are manageable. But having to juggle caregiving demands with the demands of your own life can prove to be a challenge over time.
To support those caring for others, Pierce County offers a Family Caregiver Support Program staffed with knowledgeable and caring people who can help you. The top two services we provide are respite care and PERS, a personal emergency response system. Respite enables caregivers to take a break from their responsibilities and recuperate, which is so important to provide the quality level of care your loved ones deserve and need. PERS offers a degree of safety in the home for individuals who many not always have a caregiver close by. We can also help with shopping or other household chores, providing minor adaptive equipment, and connecting you with lesser known but helpful resources.
In 2017, nearly 400 family caregivers received the support they needed. This year, we are on track to exceed that number, but we know many more Pierce County residents need the resources we provide.
We could use your help to spread the word. Have conversations with the family caregivers in your life and let them know that we are only one phone call away. While there are certain eligibility requirements, these services are offered free or at little cost. Through our partnerships, we have a vast and diverse network of agencies and providers that can ease the stress of family caregiving, for you and your loved ones. You care for them, we care for you.
To learn more about the Family Caregiver Support Program, visit our website or contact our Aging and Disabilities Resource Center at 253-798-4600.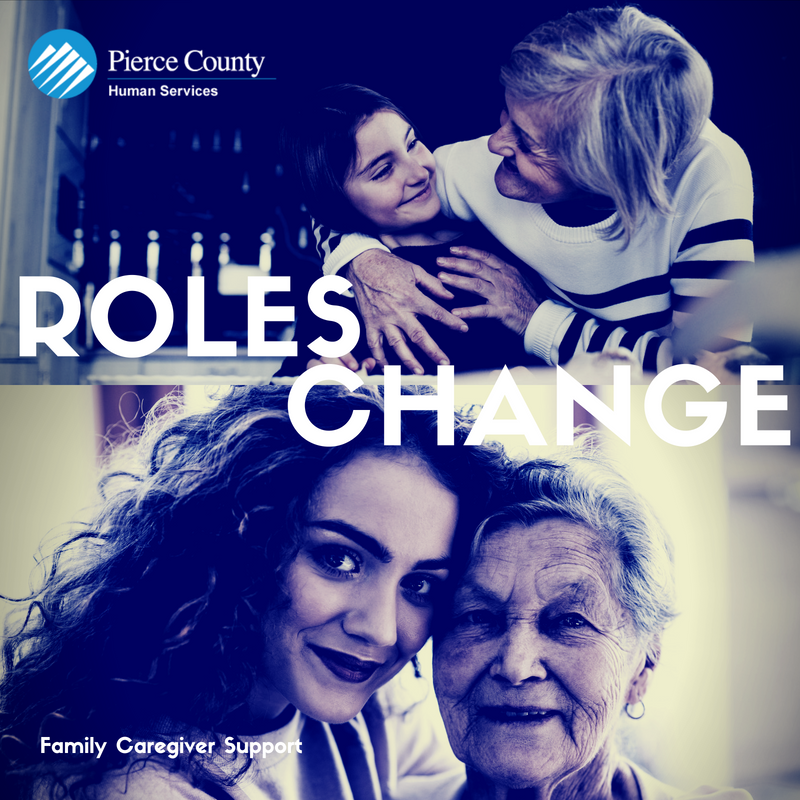 Help those who have helped you!